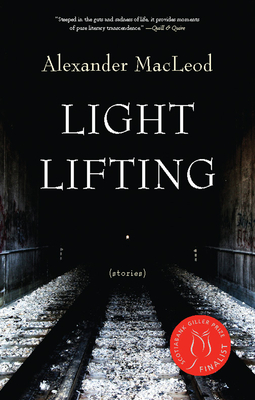 Light Lifting (Paperback)
Biblioasis, 9781897231944, 219pp.
Publication Date: April 5, 2011
Other Editions of This Title:
Hardcover (2/1/2012)
* Individual store prices may vary.
Description
AMERICAN LIBRARY ASSOCIATION NOTABLE BOOK OF 2012
IRISH TIMES BOOK-TO-READ FOR 2012
ATLANTIC BOOK AWARD WINNER
FINALIST FOR THE GILLER PRIZE AND THE FRANK O'CONNOR AWARD
A GLOBE & MAIL, QUILL & QUIRE, AND AMAZON.CA BEST BOOK OF THE YEAR
"Engrossing, thrilling and ultimately satisfying: each story has the weight of a novel." --
The Economist
This was the day after Mike Tyson bit off Evander Holyfield's ear. You remember that. It was a moment in history - not like Kennedy or the planes flying into the World Trade Center - not up at that level. This was something much lower, more like Ben Johnson, back when his eyes were that thick, yellow color and he tested positive in Seoul after breaking the world-record in the hundred. You might not know exactly where you were standing or exactly what you were doing when you first heard about Tyson or about Ben, but when the news came down, I bet it stuck with you. When Tyson bit off Holyfield's ear, that cut right through the everyday clutter.
--from "Miracle Mile"
Two runners race a cargo train through the darkness of a rat-infested tunnel beneath the Detroit River. A drugstore bicycle courier crosses a forbidden threshold in an attempt to save a life and a young swimmer conquers her fear of water only to discover she's caught in far more dangerous currents. An auto-worker who loses his family in a car accident is forced to reconsider his relationship with the internal combustion engine.
Alexander MacLeod is a writer of "ferocious intelligence" and "ferocious physicality" (CTV). Light Lifting, his celebrated first collection, offers us a suite of darkly urban and unflinching elegies that explore the depths of the psyche and channel the subconscious hopes and terrors that motivate us all. These are elemental stories of work and its bonds, of tragedy and tragedy barely averted, but also of beauty, love and fragile understanding.

About the Author
Alexander MacLeod was born in Inverness, Cape Breton and raised in Windsor, Ontario. His first collection of short stories (Light Lifting, Biblioasis 2010), was shortlisted for the Giller Prize, the Commonwealth Prize, two Atlantic Book Awards, and went on to become a national bestseller. Alexander holds degrees from the University of Windsor, the University of Notre Dame, and McGill; he currently lives in Dartmouth, Nova Scotia and teaches at Saint Mary's University in Halifax.
Praise For Light Lifting…
"His brilliant debut collection, Light Lifting, is engrossing, thrilling and ultimately satisfying: each story has the weight of a novel. The young Canadian writer is already winning plaudits in his own country. He can expect acclaim far beyond ... The choice of words is spare, simple and unaffected, and the rhythm is perfect ... stunning work. Mr. MacLeod's next contribution will be eagerly anticipated."—The Economist

"MacLeod's compassion and gift for a telling detail go a long way...[he] has recently been shortlisted for four literary prizes. On this evidence, he deserves it."—The Guardian

"Across seven wide-ranging tales, lives are saved, others are lost, and redemption, both physical and spiritual, is occasionally found. Nevertheless, the world harnessed by MacLeod is also one that bursts with wonder and nostalgia, and the author lets his subjects shine with both raw power and supple beauty throughout. Each story in Light Lifting is a true marvel—there are no fillers here—and with every passing page MacLeod firmly establishes himself as a bright new talent in literary fiction." Benjamin Woodard, Rain Taxi

"MacLeod's Light Lifting arrives across the Atlantic laden with praise."—Irish Times

"Alexander MacLeod demonstrates a strapping writerly prowess. If literature were an athletic competition he'd certainly deserve a silver medal, and I suspect he'll soon be vying for gold." —The National Post

"Alexander MacLeod looks like a heavyweight in the making."—Irish TImes

"create[s] ripples in the mind of the reader"—The Independent

"Alexander MacLeod's control of cadence and rhythm is so complete that it seems effortless.... [These stories] contain a rare kind of truthfulness." —Colm Toibin

"Light Lifting shows MacLeod is a honed storyteller. What will surprise, and surely impress, is the fresh, imaginative subject matter. And the integral prose: MacLeod has the ability to wave his wand and paint a picture in milliseconds, carving images out of dust."—THIS Magazine

"Taut to a point of richness, deft in the dark, with an understanding of narrative suspense that's somehow actually beautiful, Light Lifting is a powerful collection and the debut of a writer clearly a master of the form." —Ali Smith

"To read each story in this gorgeous collection is to live a series of rich and dangerous lives along the Canadian-Michigan border. The forces threatening Alexander MacLeod's characters include speeding trains, rip tides, lice, old age, automobile assembly lines, the exuberant despair of vacationing in Nova Scotia, and everything that lurks in the Detroit River. MacLeod is a literary rock star, and his prose is wise and rowdy music. I will recommend this book to everyone."—Bonnie Jo Campbell, American Salvage

"Rarely does fiction inhabit the body—the moving, athletic body—as fully as in Alexander MacLeod's debut story collection. Whether describing what it is to run track, to swim against a current, to build cars or to haul bricks, MacLeod brings into vivid concrete language the physical experiences that mark us as profoundly as any thought. His stories are a careful marriage of the lyric and the narrative: each unfolds around a resonant, ineffable moment, replete with history and emotion, a Gordian knot comprised of all the strands that lead up to and away from it. Sensitive and subtle, MacLeod is a writer through whose deliberately partial and quotidian pieces shimmers life's unspoken complexity." —Giller Prize jury citation

"[MacLeod's] capacity to encapsulate entire lives in the span of a few pages rivals Alice Munro. This is one of the finest collections of short fiction to appear . . . in a long, long time." —Quill & Quire (Best Books of the Year citation)

"MacLeod's straight-up themes of endurance and frailty, boyish transgression or gnawing mid-life regret, unfold without a trace of cliché or sentiment. Muscular and uniquely voiced, these stories swim entirely in their own waters." —Globe and Mail (Best Books of the Year citation)

"Few authors . . . have delved so deeply into the workplaces of [the] working-class as MacLeod, and the characters he finds there are as rich and complex as any of the cerebral exotics that populate the work of Ondaatje, Urquhart and Atwood." —Toronto Star

"MacLeod's prose is reminiscent of Annie Proulx's: It carries much weight in its sparse, straightforward style." —Hamilton Spectator

"An impressive collection . . . The diversity of characters is matched by the variety of tones." —National Post

"The stories in Alexander MacLeod's Light Lifting are dense with the tragic poetry of the everyday. His narrators speak in a deceptively relaxed vernacular that reflects a fierce emotional intensity just beneath the surface of the words, the stoic heroism of the common man and woman, and MacLeod's commitment to realistic story-telling." —Danuta Gleed Jury Citation