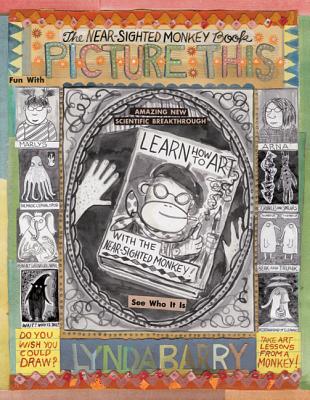 Picture This (Hardcover)
The Near-sighted Monkey Book
Drawn and Quarterly, 9781897299647, 204pp.
Publication Date: November 9, 2010
* Individual store prices may vary.
Description
The creative-drawing companion to the acclaimed and bestselling What It Is

Lynda Barry single-handedly created a literary genre all her own, the graphic memoir/how-to, otherwise known as the bestselling, the acclaimed, but most important, the adored and the inspirational What It Is. The R. R. Donnelley and Eisner Award–winning book posed, explored, and answered the question: "Do you wish you could write?" Now with Picture This, Barry asks: "Do you wish you could draw?" It features the return of Barry's most beloved character, Marlys, and introduces a new one, the Near-sighted Monkey. LikeWhat It Is, Picture This is an inspirational, take-home extension of Barry's traveling, continually sold-out, and sought-after workshop, "Writing the Unthinkable."
About the Author
Lynda Barry has worked as a painter, cartoonist, writer, illustrator, playwright, editor, commentator, and teacher. She is the inimitable creator behind the seminal comic strip Ernie Pook's Comeek, and author of The Freddie Stories,One! Hundred! Demons!, The! Greatest! of! Marlys!, Cruddy: An Illustrated Novel, Naked Ladies! Naked Ladies! Naked Ladies!, and The Good Times are Killing Me, which was adapted as an off-Broadway play and won the Washington State Governor's Award. Barry has written three bestselling and acclaimed creative how-to graphic novels for D+Q: the Eisner Award-winning What It Is, and Picture This, and Syllabus: Notes from an accidental professor.
Praise For Picture This: The Near-sighted Monkey Book…
"The collages in legendary cartoonist Lynda Barry's What It Is are a bathysphere-like odyssey through the depths of her funky subconscious." —Elissa Schappel, Vanity Fair On What It Is
"Meditations, stories and images float past in a random fashion, segueing between darkness and hope, or adulthood and childhood, the way they might in dreams or memory. " —CAROL KINO, The New York Times On What It Is
"What It Is is part diary, part showcase, part manifesto for the power of the imagination. It's bold and beautiful; angry and sad; joyful and loving and nervous." —JULIA KELLER, Chicago Tribune On What It Is