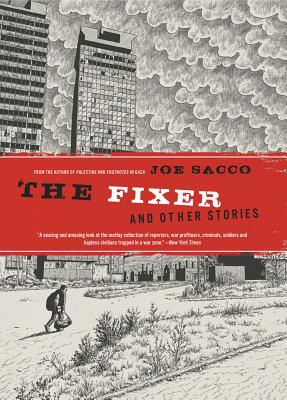 The Fixer and Other Stories (Paperback)
Drawn & Quarterly, 9781897299906, 173pp.
Publication Date: October 27, 2009
Description
THE COMPLETE SOFTCOVER COLLECTION OF BOSNIAN WAR SHORT STORIES FROM THE AUTHOR OF "PALESTINE" AND "SAFE AREA GORA DE"
""
""Using old-fashioned pen and paper, the award-winning cartoonist Joe Sacco reports from the sidelines of wars around the world. "The Fixer and Other Stories "is a new softcover that collects Sacco's landmark short stories on the Bosnian War that previously comprised the hardcover editions of "The Fixer "and "War's End.
About the Author
Joe Sacco was born in Malta and graduated from the University of Oregon with a degree in journalism. He is the author of Palestine and Safe Area Gorazde. He lives in Portland, Oregon, where he is working on his next graphic novel, about the Gaza Strip.
Praise For The Fixer and Other Stories…
"Sacco is one of the most astute war-zone correspondents working today." —Rolling Stone

"A searing and amusing look at the motley collection of reporters, war profiteers, criminals, soldiers and hapless civilians trapped in a war zone." —The New York Times

"Sacco doesn't try to lay claim to the truth. He's simply telling one man's story, and it makes for an excellent book." —The Washington Post

"Sacco demonstrates that the narrative arts, including comics, can gather up complicated social truths with a gradual patience that often eludes the camera." —The Boston Globe
Advertisement