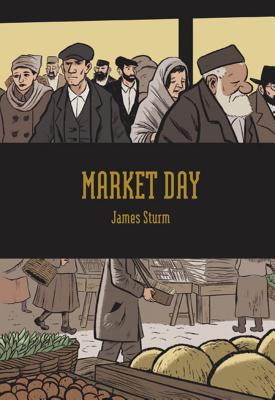 Market Day
Hardcover

* Individual store prices may vary.
Description
A TIMELESS MEDITATION ON ART AND COMMERCE SEEN THROUGH THE LIFE OF AN EARLY-TWENTIETH-CENTURY JEWISH RUG MAKER
Mendleman's life goes through an upheaval when he discovers that he can no longer earn a living for his growing family doing the work that defines him—making well-crafted rugs by hand. A proud artisan, he takes his donkey-drawn cart to the market only to be turned away when the distinctive shop he once sold to now stocks only cheaply manufactured merchandise. As the realities of the marketplace sink in, Mendleman unravels. James Sturm draws a quiet, reflective, and beautiful portrait of eastern Europe in the early 1900s–bringing to life the hustle and bustle of an Old World marketplace on the brink of industrialization. Market Day is an ageless tale of how economic and social forces can affect a single life.
An award-winning cartoonist of the books Golem's Mighty Swing, James Sturm's America, Satchel Paige: Striking Out Jim Crow, and Adventures in Cartooning, Sturm is a true visionary, having cofounded the Seattle alternative weekly The Stranger and the Center for Cartoon Studies, the country's premier cartooning school.
Praise For Market Day…
"James Sturmis a lean,mean storytellingmachine.His economy of style and motion delivers an exquisite poignancy that never becomes sentimental." —ALISON BECHDEL
"Original and fascinating." —GARRY TRUDEAU on James Sturm's America
"James Sturm's graphic narratives make us reimagine our shared history. This is historical fiction at its best." —RUSSELL BANKS on James Sturm's America
Drawn and Quarterly, 9781897299975, 96pp.
Publication Date: March 30, 2010
About the Author
James Sturm is the author of several award-winning graphic novels for children and adults, including James Sturm's America, Market Day, The Golem's Mighty Swing and Satchel Paige: Striking Out Jim Crow. He is also the founder of the Center for Cartoon Studies and the National Association for Comics Art Educators.  He created Adventures in Cartooning with collaborators Alexis Frederic-Frost and Andrew Arnold. Sturm, his wife, and two daughters live in White River Junction, Vermont.