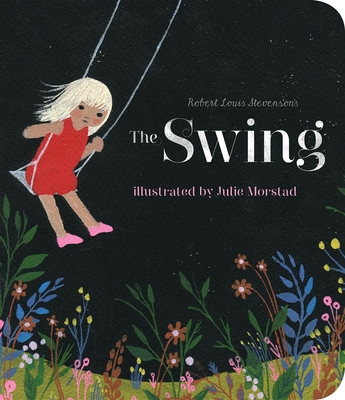 The Swing
Board Books

* Individual store prices may vary.
Description
"How do you like to go up in a swing?"
Delightful images by Julie Morstad bring to life Robert Louis Stevenson's classic poem The Swing. Share this gorgeous board book with your baby or toddler and revel in the magical images and words.

Praise For The Swing…
Review of When I Was Small:
Quill and Quire Review:
Ever curious Henry, whose enquiries about the recent past formed the basis of Sara O'Leary and Julie Morstad's previous collaborations, When You Were Small and Where You Came From, has another question for his mother, this time asking her for a story about when she was small. Henry's mother answers with a series of very short, beautifully bizarre anecdotes delivered at the pace of one per page.
The book takes the idea of Henry's mother being "small" literally – she is pictured skipping rope with a ball of yarn, swimming in a birdbath, and standing on a spool of thread. The dreamy quality of both text and image gives the book a slightly low-energy feel, but it may be the perfect thing for a kid who is just a little quiet, a little shy, but still inquisitive – a child not unlike Henry. The result is a perfect antidote for parents whose retinas have been scorched by too much Dora the Explorer.
Small visual details, such as the frequent hand-lettering and the spot illustrations, add to the book's quiet impact. The framing of the narrative, with Henry's question at the beginning and his mother's comments at the end, gives kids something concrete to hang onto throughout.
When I Was Small is not only a charming picture book, but by focusing on the parent's past instead of the child's, it also has the potential to be a great conversation starter.
Reviews and Awards for Singing Away the Dark
Finalist for the 2011-2012 Chocolate Lily Awards
Finalist for the 2011 Marilyn Baillie Award, Canadian Children's Book Centre!
Finalist for the 2011 Amelia Frances Howard-Gibbon Award Shortlist
Finalist for the 2011 Shortlist for the Ruth and Sylvia Schwartz Children's Book Awards 
Kirkus Review
In the back of beyond, a girl sets out for the schoolbus stop, a good long cross-country hike away. It's winter. The snow nearly tops her boots; the fog of her breath streams behind her. It's still dark, artfully evoked by the deep inkiness of Morstad's night sky (played off against luminescent birch trunks and dazzled by a pair of red mittens and a yellow lunchbox) and Woodward's verse: "I don't allow myself to stop / to look between the trees, / to peer at shapes that shift and hide / where it's too dark to see." The pictures and text follow her as she wends over hill and hollow, breaking into song to keep the specters at bay and stave off cold. The tingly spookiness of the rural dark is slowly, gently beveled as the story takes on the dawn, as the girl passes a farm getting its day under way in the early hours, the lights of the bus cutting through the remnants of night. Night can be a very alien world, but this beckoning book is like an invitation to come walk there. (Picture book. 4-8
Simply Read Books, 9781897476482, 16pp.
Publication Date: November 5, 2012
About the Author
Robert Louis Stevenson (1850-94), was a Scottish novelist, essayist and poet who contributed several classics to the world of children's literature. He is best known for A Children's Garden of Verses, Treasure Island, The Strange Case of Dr. Jekyll and Mr. Hyde, and Kidnapped. Julie Morstad is an award-winning illustrator and fine artist known for her surreal, whimsical work. Illustrator of numerous children's books, including Singing Away the Dark and When You Were Small and its two sequels Where You Came From and When I Was Small, Julie has exhibited her work in galleries, animated two music videos with her brother, filled up stacks of sketchbooks, and made countless pots of soup and many loaves of bread. She lives in Vancouver with her family.
or
Not Currently Available for Direct Purchase