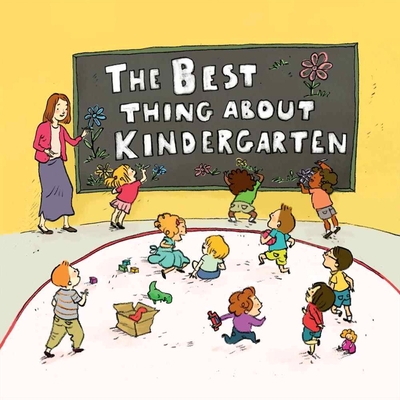 The Best Thing about Kindergarten (Hardcover)
Simply Read Books, 9781897476826, 36pp.
Publication Date: June 10, 2013
Description
It's graduation day and Ms. Appleby asks her students,  "What is the best thing about Kindergarten?" They all have an answer—and every answer is different. But Ms. Appleby has a secret answer that will surprise them all!
About the Author
Jennifer Lloyd is an award-winning author of "One Winter Night," "Looking for Loons" and "Ella's Umbrellas "and "Murilla Gorilla." When she is not at her writing desk, she works as a kindergarten teacher in Blainville, Quebec. Her students provide her with a wealth of ideas, as do her own two children. Qin Leng was born in Shanghai (China), moved to Bordeaux (France), then to Montreal (Canada). She is now living and working as a designer and animator in Toronto, Canada. She graduated from The Mel Hoppenheim School of Cinema in 2006 (Montreal, CA) with a Bachelor degree in Film Animation. She has received many awards for her animated short films and artworks and has worked as an animator and designer at the National Film Board of Canada in Montreal, CORE digital pictures and Yowza Animation in Toronto.
Praise For The Best Thing about Kindergarten…
Starred Review- Kirkus

On graduation day, a patient teacher leads her class through a guessing game about what has been the best thing about kindergarten.
Mrs. Appleby is proud of her class. They've made hats and decorations and learned a special song to sing for their parents. But kindergarten is not over quite yet—there is time for one last, and most important, lesson. "Who can guess what is the best thing about kindergarten?" The students come up with lots of good answers—calendar time, the playhouse center, the block corner, arts and crafts time, math time, the writing center, storytime, recess—but none is correct, although Mrs. Appleby kindly reinforces the accomplishments and enjoyment her students have gained from each of these activities. The guessing game is interrupted by the graduation ceremony, which goes without a hitch, the proud students each doing their parts and receiving their diplomas. And at the end, she finally shares the answer: "You, my students, are the best thing about kindergarten." The hurried, scribbly feel of Lang's illustrations lend them the busy, hectic reality of a kindergarten classroom, especially on the exciting last day of school. She neatly captures the messiness and creativity that characterize young children, and her kindergarteners are a nice mix of races and genders.
The best thing about this book? Its reassuring look back at all the things the happy and successful students have enjoyed about kindergarten—equally valuable at the beginning and the end of the school year. (Picture book. 3-5)
Starred Review - Publishers Weekly
The kids in Mrs. Appleby's kindergarten class are getting ready to graduate, but there's time for one last activity: "Who can guess what is the best thing about kindergarten?" she asks. Guesses include the playhouse, the writing center, and recess, and Mrs. Appleby affirms each suggestion: "You are a monkey bar superstar," she tells a boy named Will, adding, "We still haven't found the answer" (it turns out to be the children themselves). Leng's cozy, smudgy-edged art expresses the loving disorder of a kindergarten classroom, and Lloyd's light touch will help readers moving on from kindergarten say goodbye on a celebratory note. Last day of school stories are rare compared to ones about first days, and this one is a keeper. Ages 4–8. (June)
Reviews and Awards for Jennifer Lloyd's
Ella's Umbrellas
:
- Canadian Toy Testing Council Top 10 Great Books for Children 2011
- Nominated for the Christie Harris Illustrated Children's Literature Prize, 2010!
- Winner of an Alcuin Award, 2010  
"In this season of April showers, a book about umbrellas is welcome relief and good company indoors." -
Montreal Gazette
"A kindergarten teacher by day in Blainville, Quebec, Lloyd understands the way in which children cling to their possessions and find it difficult to share. Her text is light and rhythmic, setting just the right tone for reading aloud."-
Quill & Quire
Advertisement