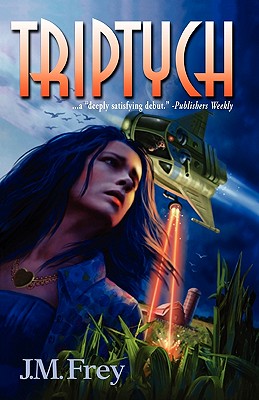 Triptych (Paperback)
Dragon Moon Press, 9781897492130, 286pp.
Publication Date: March 10, 2011
Other Editions of This Title:
Paperback (5/4/2018)
Hardcover (5/4/2018)
* Individual store prices may vary.
Description
IN THE NEAR FUTURE, humankind has mastered the arts of peace, tolerance, and acceptance. At least, that's what we claim. "You know..." she said slowly, so softly that Evvie almost didn't hear it. "You know those movies where the aliens come to Earth, and they... I dunno, they try to steal our natural resources, or create a nuclear winter so they can turn the Earth into slag, or they melt the polar ice caps and New York is under fathoms of water, or they clone us for slaves, or create terrifying bio-weapons and wipe us all out and use our cities for farmland, or... all that stuff?"Evvie's heart trembled. She could taste her pulse and her fear, thready and metallic on the back of her tongue. "Yes," she said softly....a "deeply satisfying debut." -Publishers WeeklyGwen looked up. "It was nothing like that."
or
Not Currently Available for Direct Purchase