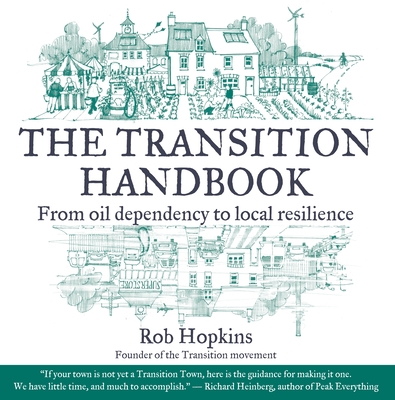 The Transition Handbook
From Oil Dependency to Local Resilience
Paperback

* Individual store prices may vary.
Description
We live in an oil-dependent world, arriving at this level of dependency in a very short space of time by treating petroleum as if it were in infinite supply. Most of us avoid thinking about what happens when oil runs out (or becomes prohibitively expensive), but The Transition Handbook shows how the inevitable and profound changes ahead can have a positive outcome. These changes can lead to the rebirth of local communities that will grow more of their own food, generate their own power, and build their own houses using local materials. They can also encourage the development of local currencies to keep money in the local area.
There are now over 30 "transition towns" in the UK, Australia and New Zealand with more joining as the idea takes off. They provide valuable experience and lessons-learned for those of us on this side of the Atlantic. With little proactive thinking at the governmental level, communities are taking matters into their own hands and acting locally. If your town is not a transition town, this upbeat guide offers you the tools for starting the process.
Green Books, 9781900322188, 240pp.
Publication Date: September 1, 2008
About the Author
Rob Hopkins is the cofounder of Transition Town Totnes and of the Transition Network. He has many years' experience in education, teaching permaculture, and natural building, and set up the first two year-full-time permaculture course in the world, at Kinsale Further Education College in Ireland, as well as coordinating the first eco-village development in Ireland to be granted planning permission. He is author of Woodlands for West Cork!, Energy Descent Pathways and most recently The Transition Handbook: From oil dependency to local resilience, which has been published in a number of other languages, and which was voted the fifth-most-popular book taken on holiday by MPs during the summer of 2008. He publishes www.transitionculture.org, recently voted the fourth best green blog in the UK. He is the winner of the 2008 Schumacher Award, an Ashoka Fellow, a Fellow of the Post Carbon Institute, served three years as a Trustee of the Soil Association, and was named by the Independent as one of the UK's top 100 environmentalists. He is the winner of the 2009 Observer Ethical Award for the Grassroots Campaigner category, and in December 2009 was voted the Energy Saving Trust/Guardian's Green Community Hero. He lectures and writes widely on peak oil and Transition, holds an MSc in Social Research, and recently completed a PhD at the University of Plymouth entitled "Localisation and resilience at the local level: the case of Transition Town Totnes." He lives in Devon and is a keen gardener.
or
Not Currently Available for Direct Purchase