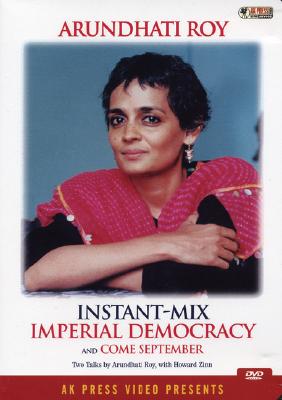 Instant-Mix Imperial Democracy: Two Talks by Arundhati Roy, with Howard Zinn (DVD-Video)
Two Talks by Arundhati Roy, with Howard Zinn
AK Press, 9781902593937
Publication Date: August 1, 2004
* Individual store prices may vary.
or
Not Currently Available for Direct Purchase
Description
Cultural Writing. "Empire is on the move, and Democracy is its sly new war cry. Democracy, home-delivered to your doorstep by daisy cutters. Death is a small price for people to pay for the privilege of sampling this new product: Instant-Mix Imperial Democracy (bring to a boil, add oil, then bomb)"--Arundhati Roy, from the DVD. Arundhati Roy breaks it all down in two remarkable lectures, and two lively discussions with Howard Zinn, combined in this 3-hour DVD. Included is her renowned speech delivered in New York City's Riverside Church, entitled "Instant-Mix Imperial Democracy." Addressing a sold-out crowd, Roy gives a fiery critique of the "New American Empire" and emphatically challenges Americans to reclaim democracy and resist the U.S. war machine.
Advertisement