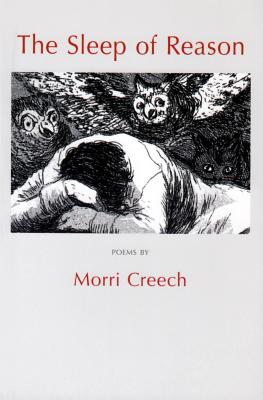 The Sleep of Reason
Paperback

* Individual store prices may vary.
Description
Poetry. Morri Creech's third collection of poems, THE SLEEP OF REASON, is a lyrical examination of liminal states of consciousness and experience -- the shadowy terrain between sleep and waking, dream and nightmare, life and death, history and the present moment. Including both a surprising take on Keats's Ode to a Nightingale and a dark meditation on the perils of the sublime, THE SLEEP OF REASON explores the anxieties, horrors, and dreams that flash just beneath the surface of the waking mind, combining formal elegance and an acknowledgment of literary tradition with a fresh, contemporary voice.

It's a rare thing in this day and age to encounter a poet unafraid to think out loud and, moreover, one who possesses the lyric gifts and intellectual savvy to translate those thoughts into the material realities of everyday life. Formal and mimetic, elegiac and acerbic, equally at home with a painting from the Dutch Golden Age and the circus sprawl of popular culture, THE SLEEP OF REASON is as accomplished and intrepid a book of poems as one is likely to find. --Sherod Santos

Situations in these poems are 'ordinary, ' a man, say, at the start of a day, looking in a mirror, looking out a window, carrying out the trash, having a job, having a family, having a self, and wondering how it is doing, wondering what his future and his past and this day are; and writing about these things in beautiful expressive lines of verse, faithful measured lines with their varied subtle pressures and subtle cadences, responsive to the variety of pressures and cadences of the thoughts and feelings of the life being lived. --David Ferry.
Waywiser Press, 9781904130536, 69pp.
Publication Date: March 1, 2013
or
Not Currently Available for Direct Purchase