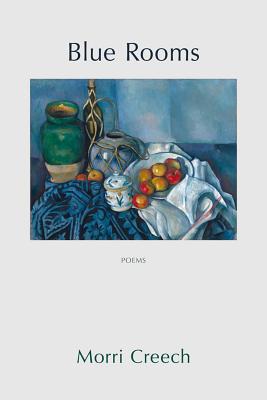 Blue Rooms
poems
Paperback

* Individual store prices may vary.
Description
Poetry. A former winner of the Anthony Hecht Poetry Prize, and a finalist for the Pulitzer Prize for Poetry, Morri Creech is one of America's finest poets. His fourth collection, BLUE ROOMS, explores the uncertain terrain between conscious perception and the objective world. This new collection includes powerful lyric sequences that examine Magritte's surreal investigations of the elusive self, Cezanne's attempts to limn the dynamic nature of reality, and Goya's unflinching depictions of cosmic and historical horrors--all while balancing rich language with an exacting formal control. In these poems, Morri Creech, one of our finest formal poets, confronts the fundamental mystery of language--the way the world is captured by and transformed into words. In the tradition of Wallace Stevens, he combines philosophical insight with eloquence and wit, as he marvels at how the mind is able 'to conjure matter purely through perception.'--Adam Kirsch BLUE ROOMS is a clear-sighted book, arresting in the beauty of its imaginative and linguistic artistry, but also in the elegiac power it wrings from the poet's dead-level doubts about the whole idea of arresting beauty with imagination and language. Creech pushes these anxieties past conventional literary paradox into the realm of human consequence, till they open out, naturally, into a number of serial meditations that furnish the poet with occasions to ponder the limits of memory, experience, perception, and reality itself, all with his usual tact and acuity. Then, in the same book, Creech can turn around and give us, in a less speculative vein, 'The Confession, ' a devastating monologue, spoken by one of the perpetrators of a lynching, that affirms the promise of good poetry as a spur to serious moral reflection. Morri Creech engages and challenges his reader, and himself, at the intellectual, philosophical, and emotional levels, and the result is a truly dynamic and remarkable book.--Joshua Mehigan These lucid, elegant poems suggest an indebtedness to Wallace Stevens and Anthony Hecht, but it is primarily the late Howard Nemerov whose temperament and genius Morri Creech has so brilliantly rechanneled in BLUE ROOMS. Like his precursor, Creech attends to the everyday (what he calls 'the modest raptures of the ordinary') with grace and gravity, to move us 'beyond the reach of language.' This stunning, compact volume delicately leads us from the familiar to the infinite, blending together seamlessly the imagined and the real. I loved reading this book.--Willard Spiegelman.
Waywiser Press, 9781904130925, 80pp.
Publication Date: December 6, 2018