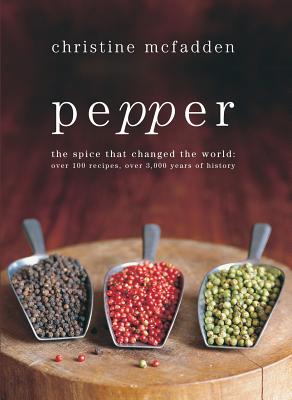 Pepper (Hardcover)
The spice that changed the world
Absolute Press, 9781904573609, 256pp.
Publication Date: January 23, 2008
* Individual store prices may vary.
Description
Why is it that pepper and certain foods go together so perfectly? (Think steak au poivre, black pepper crisps, cream cheese and black pepper, or even strawberries and black pepper.) Christine McFadden's evocative collection of recipes from around the world are geared to modern lifestyles and informal eating, inspiring the imagination with unusual ways of using pepper - in cakes and desserts for example - reminding us of pepper's traditional use in pickles and preserves, in sauces and soups, curries and stews. A vivid first-hand description of the pepper gardens and spice markets of Kerala and a fascinating account of pepper's role in shaping history, provide a colourful backdrop to the serious business of cooking with and tasting pepper.
About the Author
Author of many cookery books and five times nominated for international food media awards, Christine McFadden is a well-established food writer with a deep interest in the many aspects of food and its provenance. She has a passion for spices and seasonings and the way in which they transform the character of a dish; she also has a particular interest in the historical impact ingredients such as these have on culture, politics and economics. Christine is a staunch supporter of local food producers and farm shops.
or
Not Currently Available for Direct Purchase