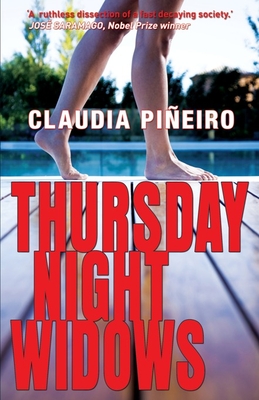 Thursday Night Widows (Paperback)
Bitter Lemon Press, 9781904738411, 274pp.
Publication Date: January 1, 2010
* Individual store prices may vary.
Description
"An agile novel written in a language perfectly pitched for the subject matter, a ruthless dissection of a fast decaying society"--Jose Saramago, Nobel Prize winner
The English translation of hit novel Las Viudas de Los Jueves
"Pineiro's clever U.S. debut.. . illuminates the hypocrisies of the country's upper classes after 9/11."--Publishers Weekly
"Pineiro is particularly skilful at exposing the social forces undermining Argentine society, and the fragility of personal relationships. We learn the surprising truth of the three men's death in the final chapter; the build-up to it is riveting."--The Times (London)
"Pineiro builds up tension through banal, domestic details and the accretion of despair in everyday marital and professional struggles. There may be bloody murder at the centre of this novel, but the dystopia portrayed is an indictment not solely of an assassin but of Argentina's class structure and the willful blindness of its petty bourgeoisie."--Times Literary Supplement
"A razor-sharp psychological and social portrait not only of Argentina, but of the afluent Western world as a whole."--Rosa Montero
Three bodies lie at the bottom of a swimming pool in a gated country estate near Buenos Aires. It's Thursday night at the magnificent Scaglia house. Behind the locked gates, shielded from the crime, poverty, and filth of the people on the streets, the Scaglias and their friends hide lives of infidelity, alcoholism, and abusive marriage. Claudia Pineiro's novel eerily foreshadowed a criminal case that generated a scandal in the Argentine media. But this is more than a story about crime. The suspense is a byproduct of Pineiro's hand at crafting a psychological portrait of a professional class that lives beyond its means and leads secret lives of deadly stress and despair. It takes place during the post-9/11 economic meltdown in Argentina, but it is a universal story that will resonate among credit-crunched readers of today.
The film of Thursday Night Widows, by Argentine New Wave and award-winning director Marcelo Pineyro is coming soon with trailers available online.
Claudia Pineiro was a journalist, playwright, and television scriptwriter and in 1992 won the prestigious Pleyade Annual Journalism Award. She has more recently turned to fiction and is the author of literary crime novels that are all bestsellers in Latin America and have been translated into four languages. This novel won the Clarin Prize for fiction and is her first title to be available in English.
About the Author
Pineiro began her career as a journalist, playwright and television scriptwriter and in 1992 won the prestigious Pleyade journalism award. She has more recently turned to fiction and is the author of the literary crime novel 'Tuya' (finalist for the 2003 Planeta Prize), 'Elena Sabe' and 'Thursday Night Widows', her first novel available in English. Miranda France wrote 'Bad Times in Buenos Aires' which in essay form won the Shiva Naipaul Memorial Prize in The Spectator magazine. A book by the same title was published in 1998 and met with great critical acclaim. The New York Times described it as 'a remarkable achievement' and the Sunday Times as 'an outstanding book'.