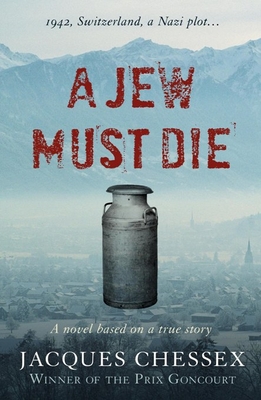 A Jew Must Die (Paperback)
Bitter Lemon Press, 9781904738510, 92pp.
Publication Date: April 1, 2010
* Individual store prices may vary.
Description
Praise for A Jew Must Die
"Chessex, our new Flaubert, has no equal when describing horror without flinching, screaming sotto voce and exploring guilt in taut prose."--Le Nouvel Observateur
"A masterpiece. Beauty of the world, ubiquity of evil, God's silence, it's all there, delivered like a slap to the face."--Le Point
"A great author explores a nightmare not as anachronistic as it might appear."--L'Hebdo
A novel based on a true story.
On April 16, 1942, a handful of Swiss Nazis in Payerne lure Arthur Bloch, a Jewish cattle merchant, into an empty stable and kill him with a crowbar. Europe is in flames, but this is Switzerland, and Payerne, a rural market town of butchers and bankers, is more worried about unemployment and local bankruptcies than the fate of nations across the border. Fernand Ischi, leader of the local Nazi cell, blames it all on the town's Jewish population and wants to set an example, thinking the German embassy would be grateful. Ischi's dream of becoming the local gauleiter is shattered, however, when the milk containers used to dissimulate Bloch's body parts is discovered floating in a lake nearby, leading to his arrest.
Jacques Chessex, winner of the prestigious Prix Goncourt, is one of Switzerland's greatest authors. He knew the murderers, went to school with their children, and has written a terse, implacable story that has awakened memories in a country that seems to endlessly rediscover dark areas of its past.
About the Author
Jacques Chessex, born in 1934, won the Prix Goncourt, France's most prestigious literary prize for his novel L'Ogre. He is considered one of Switzerland's greatest authors, a novelist, poet, essayist and winner of the French Literature Grand Prix of the Academie Francaise. W.Donald Wilson is a professor at the University of Waterloo in Canada. He is a translator of fiction and non-fiction from the French and his work includes titles by Yves Theriault and Jean Heffer.
or
Not Currently Available for Direct Purchase