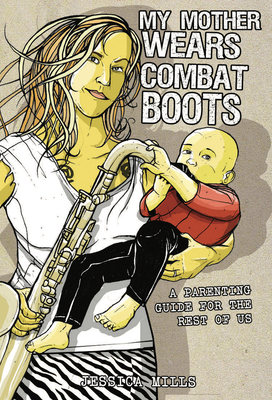 My Mother Wears Combat Boots
A Parenting Guide for the Rest of Us
Paperback

* Individual store prices may vary.
Description
A parenting guide like no other Jessica Mills, a touring punk musician, artist, and political activist, gives readers a delightful, information-packed guide to having and raising kids without giving up your politics, art, or life.
Disappointed by run-of-the-mill parenting books that didn't speak to her experience, Jessica set out to write a book tackling the issues faced by a new generation of moms and dads. The result is a parenting guide like no other. Written with humor, extensive research, and much trial and error,
My Mother Wears Combat Boots
delivers sound advice for parents of all stripes. Amid stories of bringing kids (and grandparents) to women's rights demonstrations, taking baby on tour with her band, and organizing cooperative childcare, Jessica gives detailed nuts-and-bolts information about weaning, cloth vs. disposable diapers, the psychological effects of co-sleeping, and even how to get free infant gear. This book provides a clever, hip, and entertaining mix of advice, anecdotes, political analysis, and factual sidebars that will help parents as they navigate the first years of their child's life. "Jessica Mills is a great writer with a lot to say and the heart, guts, brains, and perseverance it takes to do it.
My Mother Wears Combat Boots
is an instant classic, the latest in the evolution of punk sensibilities into sustainable community action: full of real life experience and well-researched inquiry. It will take another generation before a parenting book has the cutting edge insight, yet stable strength, of this collection."
--China Martens, author of
The Future Generation: A Zine-Book for Subculture Parents, Kids, Friends & Others
"This is the most sympathetic read I've come across in my travels as a punk parent and musician. It's nice to know that there is someone else in the world that understands 'The Life' and is not afraid to put her insights in print. Thank you, Jessica."
--Ara Babajian, (drummer for The Slackers) "
My Mother Wears Combat Boots
helps to pave the way for a whole new generation of moms with advice on the down to earth essentials of parenting, it's also further proof that you don't have to stop Rockin' once you have become a parent. I found this to be an invaluable resource as a new mom "
--Chris(tine) Boarts Larson, editor of
Slug & Lettuce
"Sometimes hilarious and sometimes heartwarming, Jessica Mills is brilliant in her own down-to-earth way.
My Mother Wears Combat Boots
avoids the pitfalls of the polemical and preachy and serves as an entertaining guide to how to raise a child into more than another blind consumer."
--Sean Carswell,
Razorcake
magazine "How unreal and yet real it is to have a mother of two bring along a babysitter on tour in a wonderful refusal to be 'tied down' by motherhood-and now have the experience written up in intelligent and captivating prose, alongside a wealth of 'how-to' info and inspiring stories that relate touring to family life and in the process redefine both. Excellent "
--Dick Lucas, Subhumans / Citizen Fish.
AK Press, 9781904859727, 329pp.
Publication Date: October 1, 2007
About the Author
Jessica Mills writes a punk-parenting column for Maximum Rock N Roll, plays saxophone for Citizen Fish, was Director of a birth center in Hollywood, Florida, makes jewelry in her metalworking studio, is mom to seven-year-old Emma-Joy and one-year-old Maya-Rae, and organizes childcare cooperatives. She lives with her partner and daughters in Seattle, WA.
or
Not Currently Available for Direct Purchase