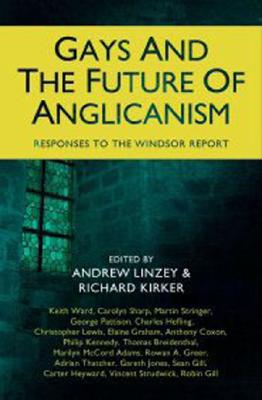 Gays and the Future of Anglicanism
Responses to the Windsor Report
Paperback

* Individual store prices may vary.
Description
The Anglican Communion stands at a crossroads. Some want Anglicanism to be exclusive of gays, especially gay priests and bishops. The Windsor Report is seen as the means of achieving this by centralising the Anglican Communion, and bringing wayward provinces, like ECUSA, to heel. In this collection of essays, distinguished academics from the UK and the US offer lively, thoughtful and scholarly critiques of the Windsor Report. What unites this collection is the view that Windsor does not provide a way forward for Anglicanism. Contributors write from a variety of standpoints, including justice for gays, opposition to centralisation, and/or the need for legitimate moral diversity within Anglicanism. This timely collection offers a means of grappling with what has become one of the most controversial issues within Anglicanism, and also a way of reflecting on the future shape of the Church, and how inclusive that Church is going to be. CONTRIBUTORS: Marilyn McCord Adams is Regius Professor of Divinity at the University of Oxford and Canon of Christ Church, Oxford. Thomas Breidenthal has been Dean of Religious Life and of the Chapel at Princeton University since January 2002. of Edinburgh and Emeritus Professor of Sociological Research Methods, University of Wales. Robin Gill is the Michael Ramsey Professor of Modern Theology in the University of Kent. Sean Gill is Senior Lecturer in Theology and Religious Studies at the University of Bristol. Elaine Graham is the Samuel Ferguson Professor of Social and Pastoral Theology at the University of Manchester. Rowan A. Greer is Professor of Anglican Studies Emeritus at Yale Divinity School. Charles Hefling is a Faculty Member of the Theology Department and the Honours Programme at Boston College, Massachusetts; Editor of the Anglican Theological Review; and the Examining Chaplain to the Bishop of Massachusetts. Carter Heyward is the Howard Chandler Robbins Professor of Theology at Episcopal Divinity School in Cambridge, Massachusetts. Lisa Isherwood is Professor of Feminist Liberation Theologies at the College of St Mark & St John, Plymouth. Gareth Jones studied Theology at Cambridge University, completing his PhD on Bultmann in 1988. the Dominican Order in 1977. Richard Kirker is Director of the Lesbian and Gay Christian Movement, a post held since 1979. Christopher Lewis is Dean of Christ Church, Oxford. Andrew Linzey is a member of the Faculty of Theology in the University of Oxford, and Senior Research Fellow of Blackfriars Hall, Oxford. George Pattison is Lady Margaret Professor of Divinity in the University of Oxford. Carolyn J. Sharp is Assistant Professor of Old Testament at Yale Divinity School. Vincent Strudwick is currently Chamberlain of Kellogg College and Associate Chaplain of Corpus Christi College, Oxford. Adrian Thatcher taught Theology at the College of St Mark & St John, Plymouth, from 1977 until his retirement in August 2004.
John Hunt Publishing, 9781905047383, 338pp.
Publication Date: September 1, 2005
or
Not Currently Available for Direct Purchase