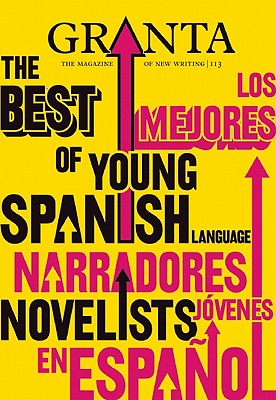 Granta (Paperback)
The Best of Young Spanish Language Novelists
Granta Books (UK), 9781905881239, 324pp.
Publication Date: December 6, 2010
Other Editions of This Title:
Paperback (5/7/2013)
* Individual store prices may vary.
Description
Granta 113, published simultaneously in Spain as Los Mejores Narradores Jovenes en Espanol, showcases the work of 22 promising new writers. It is eagerly anticipated, as Granta's previous Best Young Novelist issues have been startlingly accurate, calling out the work of writers from Salman Rushdie to Jonathan Franzen and Zadie Smith.
Here, for the first time in translation, we predict the literary stars of the future.
CONTENTS
7 Foreword
Aurelio Major
Valerie Miles
11 Cohiba
Lucia Puenzo
(translated by Valerie Miles)
29 Stars and Stripes
Santiago Roncagliolo
(translated by Edith Grossman)
41 After Effects
Oliverio Coelho
(translated by Anne McLean)
51 The Coming Flood
Andres Barba
(translated by Lisa Dillman)
65 The Place of Losses
Rodrigo Hasbun
(translated by Carolina De Robertis)
81 Conditions for the Revolution
Pola Oloixarac
(translated by Mara Faye Lethem)
99 The Hotel Life
Javier Montes
(translated by Margaret Jull Costa)
115 Gigantomachy
Pablo Guitierrez
(translated by Anna Kushner)
123 After Helena
Andres Neuman
(translated by Richard Gwyn)

135 Eva and Diego
Alberto Olmos
(translated by Peter Bush)
147 The Survivor
Sonia Hernandez
(translated by Samantha Schnee)
157 Scenes from a Comfortable Life
Andres Ressia Colino
(translated by Katherine Silver)
169 Seltz
Carlos Yushimito
(translated by Alfred Mac Adam)
187 The Girls Resembled Each Other in the Unfathomable
Carlos Labbe
(translated by Natasha Wimmer)
195 In Utah There Are Mountains Too
Federico Falco
(translated by Alfred Mac Adam)
217 Small Mouth, Thin Lips
Antonio Ortuno
(translated by Tanya Huntington Hyde)
233 Gerardo's Letters
Elvira Navarro
(translated by Natasha Wimmer)
243 The Bonfire and the Chessboard
Matias Nespolo
(translated by Frank Wynne)
263 The Cuervo Brothers
Andres Felipe Solano
(translated by Nick Caistor)
273 Olingiris
Samanta Schweblin
(translated by Daniel Alarcon)
287 Ways of Going Home
Alejandro Zambra
(translated by Megan McDowell)
301 A Few Words on the Life Cycle of Frogs
Patricio Pron
(translated by Janet Hendrickson)
321 Notes on translators.
About the Author
John Freeman's criticism has appeared in more than 200 newspapers around the world, including "the Guardian," "the Independent," "The Times" and the "Wall Street Journal." Between 2006 and 2008, he served as president of the National Book Critics Circle. His first book, The Tyranny of E-Mail, was published in 2009 by Scribner in the US and Text in Australia.
or
Not Currently Available for Direct Purchase