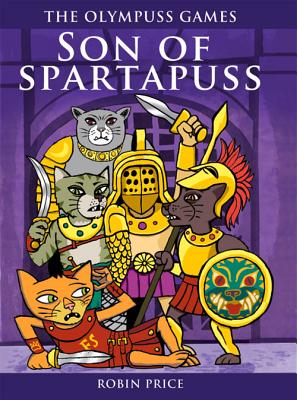 Son of Spartapuss (Paperback)
Mogzilla, 9781906132811, 96pp.
Publication Date: September 1, 2014
* Individual store prices may vary.
Description
Unlock the exciting world of ancient Rome with the Son of Spartapuss
Set in an alternate ancient Greece and Rome, the world is ruled by cats, and people have never existed. Join the Son of Spartapuss and his fiery friend Furia as they battle their way from gladiator school to the Olympuss Games. Packed with fun historical facts, this first part of the four-book series is a purrfect way to bring history alive for early readers.
About the Author
Robin Price is the author of the Beowuff series, the Spartapuss series, and the graphic novel London Deep, which was chosen as a Recommended Read for World Book Day 2011. He is a former editor for BBC Online and Foxkids.co.uk, and co-wrote musical versions of Julia Donaldson's The Gruffalo and the Olivier-nominated Room on the Broom. Chris Watson is an artist who has worked on many illustrated books, including the Beowuff series.