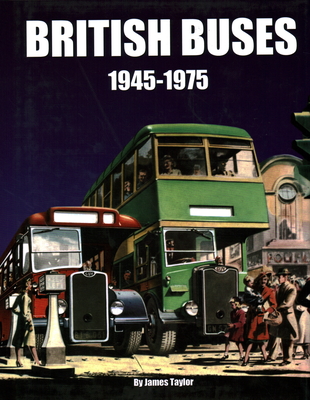 British Buses 1946-1975 (Hardcover)
Herridge & Sons Ltd., 9781906133382, 192pp.
Publication Date: January 1, 2012
* Individual store prices may vary.
Description
By 1945, at the end of a long war, Britain was desperate for new buses and coaches.  And, by the time the government permitted bus production again an almost insatiable demand had built up, and many companies new to making buses came into the business.  In this book the manufacturers – large and small – are dealt with in A-Z order: AEC, Albion, Atkinson, Austin, Bedford, Bristol, Commer, Crossley, Daimler, Dennis, Dodge, Foden, Ford, Guy, Jensen, Karrier, Leyland, Maudslay, Morris-Commercial, Rowe, Rutland, Seddon, Sentinel, Thrnycroft, Tilling-Stevens, Trojan, Vulcan. The author gives a brief history of each and then provides individual coverage of the models produced, using original material from brochures and advertisements for the illustrations., not only to identify the vehicles but also to give the flavor of the times when they were to be seen going about their business.  A companion volume to British Lorries 1945-1965 and British Vans and Pick-ups 1945-1965, this is not only a reliable and comprehensive reference book but also via its illustrations a pleasing evocation of earlier times on Britain's roads and streets.
About the Author
After graduating from Oxford and pursuing further academic studies at Reading, James Taylor spent 12 years working in central government. However, the lure of writing about cars – which he was doing in his spare time – proved too great and he decided to turn it into a career. James has now written well over 100 books in all, and among them have been several definitive one-make or one-model titles. He has written for enthusiast magazines in several countries, has translated books from foreign languages, and even delivers effective writing training in both the public and private sectors. He spent the best part of ten years as the editor of Land Rover Enthusiast magazine and has always counted the products of the old Rover Company and of Land Rover as his favourite subject. He also co-organised the "15 Years of Rover V8" event at Donington in 1982.

 
or
Not Currently Available for Direct Purchase