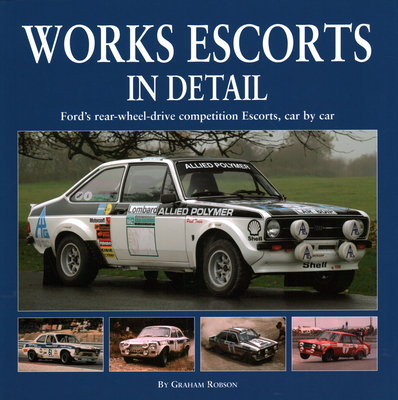 Works Escorts In Detail (Hardcover)
Ford's Rear-Wheel-Drive Competition Escorts, car-by-car
Herridge & Sons Ltd., 9781906133443, 200pp.
Publication Date: March 1, 2013
* Individual store prices may vary.
Description
Between 1968 and 1981 the Ford Escort was probably the most successful rally car in the world. Rallying became progressively more glamorous, the teams and drivers more famous, and the cars became more colourful, in that period. European, then World, Championships were set up and prospered. The Escort won its first major International rally in April 1968, and its last in mid-1981. The brand won the World Rally Championship on several occasions during that time, its drivers won the Drivers' Championship twice, and the Escort was the standard by which all other rally cars were judged throughout that 13-year period. The Ford-UK factory and its closest associates built no fewer than 113 Mk I cars of all types (1968 to 1974), and 55 Mk 2 cars (1975 to 1981). This new book covers all of these vehicles, car-by-car detailing build details, colour schemes, competition history, technical development. Every individual car is illustrated in its principal liveries using archive pictures and several of the more important cars have been specially photographed in great detail.
About the Author
After a varied career in the automotive industry, Graham Robson has gained a worldwide reputation as a motoring historian, and has more than 160  books to his credit. Born in 1936, and educated at Ermysteds Grammar School in Yorkshire, Graham then went on to study Engineering at Oxford University. He  joined Jaguar Cars as a graduate trainee, becoming involved in design work on the Mk II, E-Type and Mark X. Beginning as a hobby, he became a rally co-driver, eventually joining the Sunbeam 'works' team in 1961, and took part in rallies up to International level (once with Roger Clark), but stopped rallying by 1968. During this time, he joined Standard-Triumph in Coventry, in 1961, as a Development Engineer, mainly on sports car projects. He then ran the re-opened 'works' motorsport department from 1962 to 1965, this being the period of the birth of Spitfire Le Mans cars, TR4, Vitesse, Spitfire and 2000 rally car developments. Graham Robson's writing began with rally reports for magazines which evolved into a job with Autocar from 1965 to 1969. He was recruited back to industry at Rootes to run the Product Proving department, then after a brief period in 1972 as technical director of a safety belt company, became an independent motoring writer. Graham has lived 'by the pen' and 'by the voice', not only writing but commentating, presenting and organising events of all types.
 
or
Not Currently Available for Direct Purchase