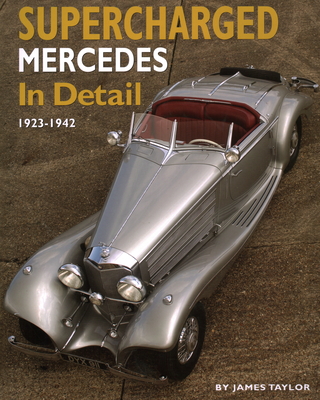 Supercharged Mercedes In Detail (Hardcover)
1923 - 1942
Herridge & Sons Ltd., 9781906133481, 176pp.
Publication Date: January 1, 2014
* Individual store prices may vary.
Description
Among the rarest and most exciting classic cars are the supercharged Mercedes cars of the 1920s and 1930s, exemplified by the fire-breathing S, SS, SSK and SSKL models with their supercharged 7-litre engines, and their exceedingly glamorous, though softer and less stark, 500K and 540K cars which succeeded them in the mid-1930s. All of the models, going back to 1923 and on to the construction of the last mighty 770K in 1942, and the long, pioneering history of supercharging by Mercedes, are described here, including the cars designed by Ferdinand Porsche between 1924 and 1928 and the road-racing exploits of star drivers like Rudolf Carracciola. With 100 color photographs of surviving examples, and 150 black-and-white pictures from the archives, Supercharged Mercedes in Detail describes all about a remarkable family of motor cars, rarely ever seen yet universally admired.
About the Author
After graduating from Oxford and pursuing further academic studies at Reading, James Taylor spent 12 years working in central government. However, the lure of writing about cars – which he was doing in his spare time – proved too great and he decided to turn it into a career. James has now written well over 100 books in all, and among them have been several definitive one-make or one-model titles. He has written for enthusiast magazines in several countries, has translated books from foreign languages, and even delivers effective writing training in both the public and private sectors. He spent the best part of ten years as the editor of Land Rover Enthusiast magazine and has always counted the products of the old Rover Company and of Land Rover as his favourite subject. He also co-organised the "15 Years of Rover V8" event at Donington in 1982.

 
or
Not Currently Available for Direct Purchase