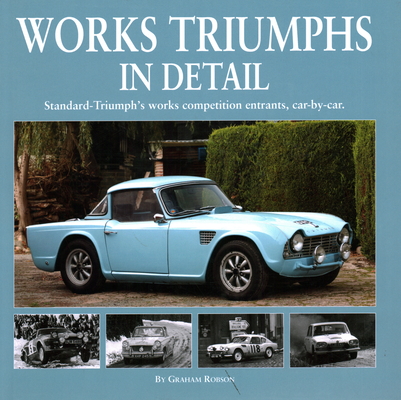 Works Triumphs In Detail (Hardcover)
Standard-Triumph's works competition entrants, car-by-car
Herridge & Sons Ltd., 9781906133597, 224pp.
Publication Date: March 1, 2015
* Individual store prices may vary.
Description
Between 1953 and 1980 the Triumph competitions department produced more than 150 'works' competition cars for race and rally. These included TR2, TR3 and TR3A, the TR3S, TRS and Conrero race cars, Herald and Vitesse, TR4, 2000, Spitfire and GT6R, 2.5 PI, Dolomite and Sprint, TR7 and TR7 V8. In addition they prepared Standard Eight, Ten, Pennant, and Phase III Vanguard for competition. Viewed overall, what stands out as the remarkable feature of the work of the department was that they achieved such a degree of success with relatively ordinary production cars, from 803cc saloons upwards. Author Graham Robson was manager of the Standard-Triumph competitions department in the early 1960s and himself supervised the development and management of the works TR4s, Spitfires and 2000s. Here he provides information on each and every one of the works cars of the whole 1953-80 period, with details of their specifications, entries, drivers and careers, accompanied in nearly all cases by archive photographs. In addition there is specially commissioned colour photography of important surviving examples.
About the Author
After a varied career in the automotive industry, Graham Robson has gained a worldwide reputation as a motoring historian, and has more than 160  books to his credit. Born in 1936, and educated at Ermysteds Grammar School in Yorkshire, Graham then went on to study Engineering at Oxford University. He  joined Jaguar Cars as a graduate trainee, becoming involved in design work on the Mk II, E-Type and Mark X. Beginning as a hobby, he became a rally co-driver, eventually joining the Sunbeam 'works' team in 1961, and took part in rallies up to International level (once with Roger Clark), but stopped rallying by 1968. During this time, he joined Standard-Triumph in Coventry, in 1961, as a Development Engineer, mainly on sports car projects. He then ran the re-opened 'works' motorsport department from 1962 to 1965, this being the period of the birth of Spitfire Le Mans cars, TR4, Vitesse, Spitfire and 2000 rally car developments. Graham Robson's writing began with rally reports for magazines which evolved into a job with Autocar from 1965 to 1969. He was recruited back to industry at Rootes to run the Product Proving department, then after a brief period in 1972 as technical director of a safety belt company, became an independent motoring writer. Graham has lived 'by the pen' and 'by the voice', not only writing but commentating, presenting and organising events of all types.
 
or
Not Currently Available for Direct Purchase