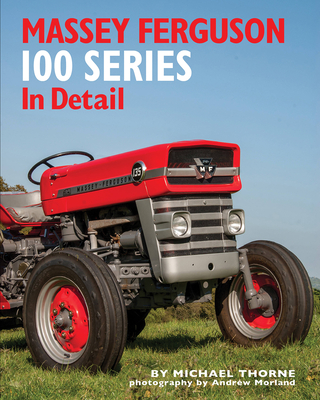 Massey Ferguson 100 Series In Detail (Hardcover)
Herridge & Sons Ltd., 9781906133764, 136pp.
Publication Date: February 6, 2018
* Individual store prices may vary.
Description
Following his well-received books in this 'In Detail' series on the Ferguson TE20 and the Massey Ferguson 35 & 65 models, author Michael Thorne turns his attention to the outstandingly successful and well-loved 100 Series of tractors. Of the 100 range, the most popular was and remains the 135. Half a million 135s were built at Massey Ferguson's factory in Coventry alone, with production overseas on top of this figure. Another big success was the larger, more powerful 165, with nearly 200,000 sold. This model, like the 135, is among the most popular and sought-after classic tractors today, although many 135s and 165s are still in active use around the world, in spite of their age. The 100 range included a great number of other models, and in addition to the 135 and 165, which are given in-depth treatment here, important models described in detail are the 130, 148 Super-Spec, 168, 175, 185 and 188 Super-Spec. There is an extensive chapter on the implements available for the range, and another on conversions. Featuring 290 illustrations including  detailed specially-commissioned colour photography of outstanding examples of 100 Series tractors, Massey Ferguson 100 Series In Detail offers an unrivaled store of knowledge for the owners and enthusiasts who care passionately about these tractors, and serves as a tribute to the people who made them.
About the Author
Michael Thorne first experienced a Ferguson tractor when he drove a TED20 at the age of 14. His interest in Fergusons was rekindled in 1985 when he bought a TED20, and since then he has become the Ferguson enthusiast par excellence. Over 20 years he has painstakingly assembled an outstanding collection of nearly 50 Fergusons.