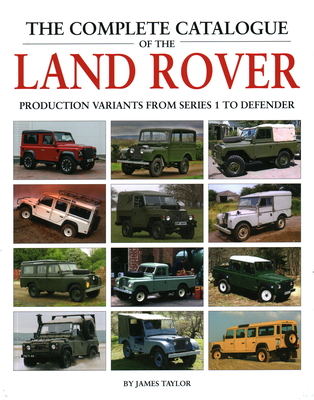 The Complete Catalogue of the Land Rover (Hardcover)
Production Variants from Series 1 to Defender
Herridge & Sons Ltd., 9781906133856, 264pp.
Publication Date: January 21, 2020
* Individual store prices may vary.
Description
The traditional utility Land Rover remains as much an enthusiast's choice as ever now that its production has been ended.

Between 1948 and 2016, there was a far greater variety of models produced – an astonishing 300-plus – than even the most ardent enthusiasts recognise, and this comprehensive and highly illustrated book is a guide to all of them – both those built in Britain and those built (often with unique features) overseas. Laid out with an easy-to-follow catalogue format, The Complete Catalogue of the Land Rover offers masses of detail on both production variants and also on many that never went beyond the prototype stage, as well as on the multiple special editions that were sold around the world in more recent years.
About the Author
After graduating from Oxford and pursuing further academic studies at Reading, James Taylor spent 12 years working in central government. However, the lure of writing about cars – which he was doing in his spare time – proved too great and he decided to turn it into a career. James has now written well over 100 books in all, and among them have been several definitive one-make or one-model titles. He has written for enthusiast magazines in several countries, has translated books from foreign languages, and even delivers effective writing training in both the public and private sectors. He spent the best part of ten years as the editor of Land Rover Enthusiast magazine and has always counted the products of the old Rover Company and of Land Rover as his favourite subject. He also co-organised the "15 Years of Rover V8" event at Donington in 1982.