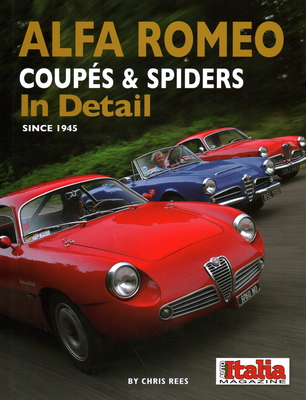 Alfa Romeo Coupes and Spiders In Detail since 1945 (Hardcover)
Herridge & Sons Ltd., 9781906133863, 78pp.
Publication Date: January 21, 2020
* Individual store prices may vary.
Description
When you think of Alfa Romeo, it is the Italian's company's sports cars, above all, that fire the imagination, since they encapsulate everything that is great about the brand. In successive dynasties of fixed-roof coupés and convertible spiders, Alfa Romeo has built one of the greatest canons of work of any car maker in the world.

The appeal of Alfa Romeo's sports cars is, of course, partly down to their aesthetic eminence. A host of talented designers created their best work for Alfa – Giorgetto Giugiaro's Giulia Sprint GT, Franco Scaglione's 33 Stradale and Pininfarina's Duetto Spider, to name but a few – but style was only ever a part of the story. Drivers love Alfa Romeo coupés and spiders, too, because technically speaking, these cars were in a class of their own. Alfa Romeo consistently employed elements from much more expensive machinery, democratising them into its sports cars. One can cite gearboxes with multiple ratios, all-round disc brakes, lightweight aluminium engines, perfectly balanced weight distribution and many more.

Alfa Romeo Coupes and Spider In Detail since 1945 celebrates Alfa Romeo's most iconic sporting machinery. From the earliest sports cars of its formative years right up to the present day, every Alfa coupé and spider is described in detail. Included are exotics like the 6C 2500 Freccia d'Oro, Montreal and 8C Competizione; focused enthusiast cars like the Giulietta Sprint Veloce, Giulia GTA and 4C; comfortable touring machines such as the 2600 Spider and Giulia GTC; iconic "everyman" sports cars like the Giulia Spider, Alfetta GTV and Alfasud Sprint; and genuinely unique projects such as the ES-30 SZ. Also included are many coachbuilt cars, official concepts and show cars.
About the Author
Chris Rees has been writing about cars for more than 35 years. In that time he's driven just about every type of car imaginable and has contributed to dozens of newspapers, magazines and websites. He's also found time to write well over 20 books about cars. Chris is currently editor of Auto Italia magazine, the world's leading title covering Italian cars, a role he took on after having contributed to the magazine for many years. He is also currently Motors Editor of The Official Ferrari Magazine (TOFM). A passionate enthusiast of Italian cars, Chris has owned a string of Alfa Romeos over the years. His current garage includes a 1990 Alfa Romeo SZ, a Fiat Panda 100HP and a Maserati Quattroporte. He lives and works in Berkshire in the UK.