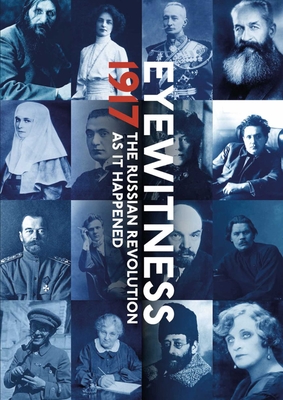 Eyewitness 1917 (Hardcover)
The Russian Revolution as It Happened
Fontanka, 9781906257279, 304pp.
Publication Date: May 13, 2019
* Individual store prices may vary.
Description
- Groundbreaking approach to popular history based upon the unique 'Project1917' website that tells the story of 1917 in the form of social media, introducing a multitude of diverse voices recounting events as they happen- New material uncovered by an ongoing team of researchers and experts in Moscow, including previously unpublished photographs- Will be published to coincide with publicity marking the centenary of the October (November as per current calendar) revolutionIn the lead-up to the centenary of the Russian Revolution in 2017, a team of researchers led by writer Mikhail Zygar posed a question: how to make the story of one of the most extraordinary years in Russian and world history relevant to today? Their answer lay in going back to the source material - diaries, memoirs, letters, news reports - and presenting it as a digital project, a daily feed delivered through social media platforms. This was Project 1917: each day subscribers would receive posts not from twenty-first-century contemporaries but from those living through the events of a hundred years earlier. The reader was able to eavesdrop on intimate conversations, trenchant commentary and ferocious debates on all sides of the revolutionary struggle. The reaction was remarkable: posts were 'liked' and 'retweeted' by thousands, many of them prompting real-time responses, as if readers hoped to strike up a direct conversation with figures from the past.In the two years since 2017, Project 1917, in collaboration with Pushkin House and Fontanka publishers, have worked to bring this rich source material together as a book. Presented in 12 chapters and illustrated throughout with archive photography, the book charts the course of an extraordinary year encompassing two revolutions, the end of the Romanovs and the rise of the Bolsheviks. Eyewitness 1917 is almost entirely unmediated - it is an account of the year in the words of those who lived through it: not just powerbrokers like Nicholas II, Kerensky and Lenin, but many others whose voices are often not heard - private citizens, ordinary soldiers, child diarists. The result is a dramatic retelling of the revolutionary story, as the reader shares the excitement and confusion of those caught up in events beyond their control.
About the Author
Mikhail Zygar is a Russian journalist, writer and filmmaker, and founding editor-in-chief of the independent Russian news channel Dozhd (2010-15). His bestselling book All the Kremlin's Men is based on interviews with Vladimir Putin's inner circle; his most recent, The Empire Must Die (2018), documents the demise of Russian civil society from 1900 to 1918.