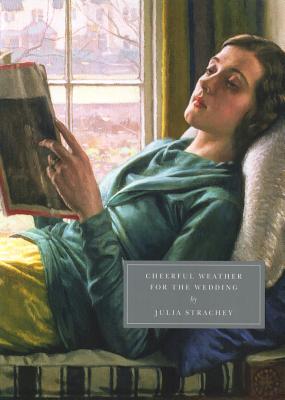 Cheerful Weather for the Wedding (Paperback)
Persephone Books, 9781906462079, 119pp.
Publication Date: December 31, 2011
Description
"[Strachey's] sharp eye, playful language and perfect comic timing will not only have you laughing, it'll leave you wondering why the rom-com formula isn't imaginatively tweaked more often."—NPR's 'Books We Like'
"A brilliant, bittersweet upstairs-downstairs comedy."—Guardian
"Anyone facing a deluge of summer nuptials will find breezy relief in Julia Strachey's 1932 novella, Cheerful Weather for the Wedding."—Cleveland Plain Dealer
It is a brisk English March day, and Dolly is getting ready to marry the wrong man. Waylaid by the sulking admirer who lost his chance, an astonishingly oblivious mother bustling around and making a fuss, and her own sinking dread, the bride-to-be struggles to reach the altar.
Dolly knew, as she looked round at the long wedding-veil stretching away forever, and at the women, too, so busy all around her, that something remarkable and upsetting in her life was steadily going forward.
Julia Strachey (1901-1979) was born in India, where her father, a brother of Lynon Strachey, was in the Civil Service. After her parents' divorce she lived with relations in England and went to Bedales and the Slade and then worked as a model, as a photographer and in publishing. She first married the sculptor Stephen Tomlin and then the art critic Lawrence Gowing; her two novels appeared in 1932 and 1951.
Advertisement