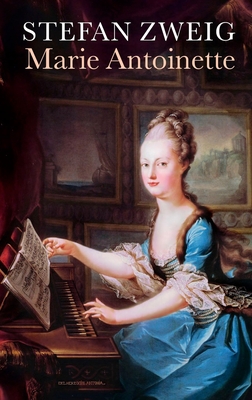 Marie Antoinette (Paperback)
Pushkin Press, 9781906548308, 592pp.
Publication Date: May 2, 2017
Other Editions of This Title:
Paperback, German (3/7/2013)
Paperback, French (10/23/2014)
Paperback, Spanish (2/26/2013)
Paperback, Spanish (4/6/2013)
Hardcover, German (3/7/2013)
Paperback (5/8/2012)
Paperback (7/8/2002)
Paperback, Spanish (1/5/2015)
* Individual store prices may vary.
Description
Stefan Zweig based his biography of Marie Antoinette, who became the Queen of France at the age of fifteen, on the correspondence between her and her mother, and her great love the Count Axel von Fersen. Zweig analyzes the chemistry of a woman's soul from her intimate pleasures to her public suffering as a Queen under the weight of misfortune and history. Zweig describes Marie Antoinette in the King's bedroom, in the enchanted and extravagant world of the Trianon, and with her children. And in his account of 'The Revolution', he describes her resolve during the failed escape to varennes, her imprisonment in the Conciergerie and her final tragic destiny under the guillotine. Zweig's account has been the definitive biography of Marie Antoinette since its publication, inspiring Antonia Fraser and the recent film adaptation.
About the Author
Stefan Zweig was born in 1881 in Vienna, into a wealthy Austrian-Jewish family. He studied in Berlin and Vienna and was first known as a poet and translator, then as a biographer. Between the wars, Zweig was an international bestseller with a string of hugely popular novellas including Letter from an Unknown Woman, Amok and Fear. In 1934, with the rise of Nazism, he left Austria, and lived in London, Bath and New York-a period during which he produced his most celebrated works: his only novel, Beware of Pity, and his memoir, The World of Yesterday. He eventually settled in Brazil, where in 1942 he and his wife were found dead in an apparent double suicide. Much of his work is available from Pushkin Press.
Praise For Marie Antoinette…
'Certainly no one can arise unmoved from the reading of this powerful work' - The New Republic

'Excellent biography' - The New York Times

'Stefan Zweig's remarkable study of Marie Antoinette; A full-bodied biography which bids fair to be the definitive life of that tragic queen' - The New York Times

'The most influential biography of Marie Antoinette' - The Guardian