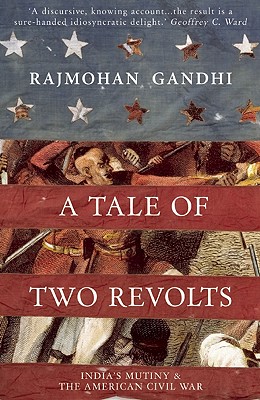 A Tale of Two Revolts (Hardcover)
India's Mutiny and the American Civil War
Haus Pub., 9781906598853, 402pp.
Publication Date: July 26, 2011
Description
Two wars - the 1857 Revolt in India and the American Civil War - seemingly fought for very different reasons, occurred at opposite ends of the globe in the middle of the nineteenth century. But they were both fought in a world still dominated by Great Britain and the battle cry in both conflicts was freedom. Rajmohan Gandhi brings the drama of both wars to one stage in A Tale of Two Revolts. He deftly reconstructs events from the point of view of William Howard Russell - an Irishman who was also perhaps the world's first war correspondent - and uncovers significant connections between the histories of the United States, Britain and India. The result is a tale of two revolts, three countries and one century. Into this fascinating story Rajmohan Gandhi weaves the choices of three towering figures of world history - Karl Marx, Leo Tolstoy and Abraham Lincoln - to show the continuities between the nineteenth century and the world we live in today.
About the Author
Rajmohan Gandhi is a research professor at the Center for South Asian and Middle Eastern Studies, University of Illinois at Urbana-Champaign, a former parliamentarian in India, the author of the award-winning biography Gandhi (Haus, 2010). He is the grandson of the Mahatma Gandhi.
Advertisement