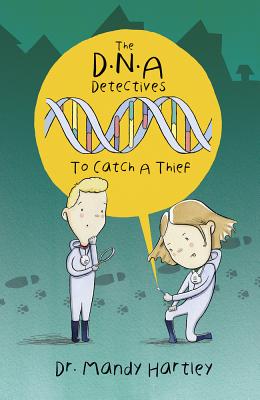 To Catch a Thief (The DNA Detectives #1) (Paperback)
St James's House, 9781906670504, 132pp.
Publication Date: April 1, 2019
* Individual store prices may vary.
Description
Annabelle and Harry's pet dog Milly goes missing. The children sadly accept that the local pet thief has struck again. They have a list of suspects and evidence left behind by the thief. But how can they find out who it is and get Milly back? The children's mother is a scientist working with DNA. The children realize they can use DNA to solve the crime. Annabelle and Harry become "DNA Detectives" and, just like real life forensic scientists, go on an exciting adventure to try and solve the case. Join them on their thrilling journey to collect clues, learn about DNA, see if they can find out the identity of the pet thief, and bring their beloved Milly safely back home. This book is supported by a series of web links which children can use to find out more about DNA, cells, and forensic science. There are also exciting activities for them to try out at home as well as online—including extracting DNA in their own interactive laboratory!
About the Author
Dr. Mandy Hartley worked in different laboratories for 15 years, using DNA to study diverse subjects. She now runs scientific workshops and performs stories that help children with visualization of different scientific concepts.