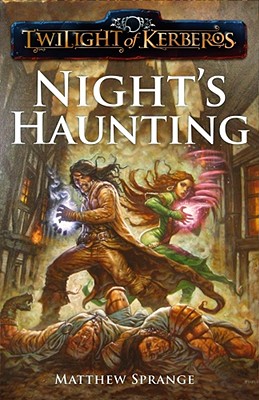 Night's Haunting
Paperback

* Individual store prices may vary.
Description
Lucius Kane, hero of Shadowmage, rides out in his second adventure. Twilight, a world overshadowed by a vast gas giant, bathing the earth in its otherworldly glow. A world of magic and warriors, zealots and monsters. It is here that the human race cling to a small peninsula, ignorant of what lies beyond the World's Ridge mountains. But there are those amongst this fledgling race with truly extraordinary powers, heroes who would delve deep into the mysteries of the past and bring new light to Twilight. Twilight of Kerberos is a sword and sorcery series, following the adventures of a group of characters with unique talents. Lucius Kane, has found his power in the Turnita underworld growing. His prospects seem boundless, until the Empire of Vos descends upon the city. At the same time a new cleric has taken command of the souls of Turnitia's citizens. He has promised to eradicate the thieves' guild and outlaw unlicensed magic. The Shadowmages are at the top of his list. Lucius will, once again, fight a war in the city streets.
Abaddon Books, 9781906735258, 240pp.
Publication Date: February 16, 2010
About the Author
Matthew Sprange is the author of many fantasy novels, and the creator of successful roleplaying games company Mongoose Publishing.