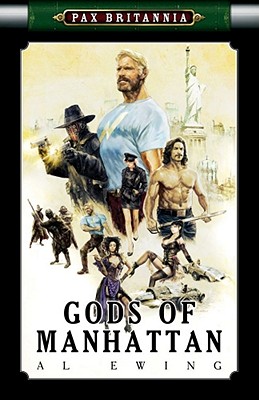 Pax Britannia (Paperback)
Gods of Manhattan
Abaddon Books, 9781906735869, 247pp.
Publication Date: September 21, 2010
* Individual store prices may vary.
Description
An exciting steampunk, pulp adventure, set in an alternative 20th Century where the English Empire rules the world and beyond, and the US is very different to what we now know. NEW YORK, USSA - The steam-powered city of tomorrow where psychedelic beat-poets rumble with punk futurists in the rain-drenched alleys, and where mad science colludes with the monstrous plans of the Meccha-Fuhrer NEW YORK, USS - City of dazzle and danger. Only here could we find The Blood Spider, Doc Thunder and the saint of ghosts known as El Sombra NEW YORK, USS - The setting for a bloody battle of steel will and science gone wild in a contest to save the city of tomorrow - or end it.
About the Author
Al Ewing is a talented new writer whose work for British comic 2000 AD, has seen him hailed as a major voice in the field. His work for Abaddon Books has been equally lauded and his unique visions of pulp fantasy have found their home in three different novels. The Gods of Manhattan is his fourth novel for Abaddon.
or
Not Currently Available for Direct Purchase