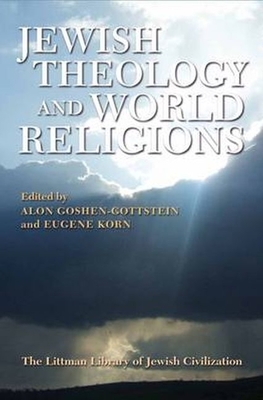 Jewish Theology and World Religions (Littman Library of Jewish Civilization)
Hardcover

* Individual store prices may vary.
Other Editions of This Title:
Paperback (7/1/2016)
Description
National Jewish Book Awards Finalist for the Anthologies and Collections Award, 2012. Two of the most pervasive aspects of modern Jewish life are interaction with people of other faiths and exposure to their beliefs to a degree unknown in the past. Jewish thinking regarding other religions has not succeeded in keeping pace with the contemporary realities that regularly confront most
Jews, nor has it adequately assimilated the ways in which other religions have changed their teachings about Jews and Judaism. Many Jews who grapple with Jewish tradition in the contemporary world want to know how Judaism sees today's non-Jewish other in order to affirm itself. By re-examining the
Jewish tradition, they seek guidance in understanding their interfaith relationships in the light of a Jewish religious mission. Jewish Theology and World Religions advances this conversation, exploring the critical issues that Jews - and Jewish thought - face when relating to Christianity, Islam,
Buddhism, and Hinduism. The book also analyzes the philosophical issues raised by pluralism, nonexclusive approaches to religious truth, and appreciating the religious other. The contributions to this volume represent a range of disciplines and denominations within Judaism and share the conviction
that articulating contemporary Jewish views of other world religions is an urgent objective for Judaism. These essays show why formulating a Jewish theology of world religions is a priority for Jewish thinkers and educators concerned with reinvigorating Judaism's contribution to the contemporary
world, and how it coheres with maintaining Jewish identity and continuity. In January 2013, this book was a finalist for a National Jewish Book Award in the category of Anthologies and Collections.

Littman Library of Jewish Civilization in Ass, 9781906764098, 464pp.
Publication Date: April 1, 2012
or
Not Currently Available for Direct Purchase