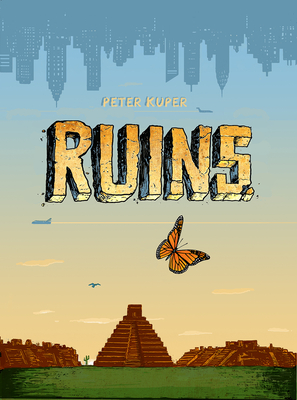 Ruins (Hardcover)
SelfMadeHero, 9781906838980, 256pp.
Publication Date: October 6, 2015
* Individual store prices may vary.
About the Author
Peter Kuper has created over a dozen graphic novels, including The System, Sticks and Stones, and an adaptation of Franz Kafka's The Metamorphosis. He is co-founder of the political graphics magazine World War 3 Illustrated and since 1997 has written and drawn "Spy Vs Spy" for MAD Magazine. He has been teaching comics courses for over 25 years in New York City and is a visiting professor at Harvard University.
Praise For Ruins…
"With a monarch butterfly serving in the role of all-seeing observer flying poetically above it all, the constantly remarkable Peter Kuper details the travels and travails of a creative New York couple who move to Oaxaca to find inspiration and revitalize their lives. Kuper's art is, page after page, astonishing."
— Jules Feiffer, Pulitzer prize-winning cartoonist
"Maybe you've never been to Oaxaca, Mexico before, or maybe you know it like the back of your hand - either way, Peter Kuper's beautiful, immersive graphic novel is the next best thing to being there. Gorgeous art, high stakes themes and a plot with a surprising twist combine to transform this pivotal moment in the lives of a culture, a country, a couple, and a butterfly into a timely and illuminating journey from North to South and back again"
— John Vaillant, author of The Jaguar's Children
"Ruins is a masterpiece of visual imagery and poignant storytelling. Kuper weaves an elegant tapestry of colorful human lives juxtaposed with the multi-generational monarch butterfly migrations. I recommend this extraordinary book to fellow travelers and everyone interested in the survival of the monarchs."
— Stephen Buchmann, co-author of The Forgotten Pollinators
"Ruins is Peter Kuper's experiences living in Oaxaca, Mexico colliding with an abiding fascination with insects woven into an epic graphic novel. Kuper illustrates the remarkable ability of the Monarch butterfly to survive, beauty intact, in the face of astonishing hurdles and illuminates the equal perseverance of the Mexican people and their culture."
— Mark Moffett, author of Adventures Among Ants
"Kuper's interplay between rich color palettes and stark monochrome pages bring to life both the lush landscapes and harsh daily realities of life in the country."
— Tech Times
"Richly illuminated by Kuper's trademark light touch with relationships and steely political acumen, it's a beautiful, epic roman à clef about the importance of seeking the new and questioning the old."
— Publishers Weekly (starred review)
"As a work with strong visual narratives, Ruins is a valuable addition to any graphic fiction collection."
— Library Journal online (starred review)
"Ruins is a book rich with beauty and important ideas, and it's just a lovely book from cover to cover. . . . It's a special work of comics art."
— Comics Bulletin
"Sumptuously printed and designed, Ruins is a luxury book."
— New York Observer
"His detailed and richly colored drawings of life in Oaxaca bring authenticity to the troubled relationship of Samantha and George."
— Shelf Awareness
"Touched with surrealism."
— Entertainment Weekly
or
Not Currently Available for Direct Purchase