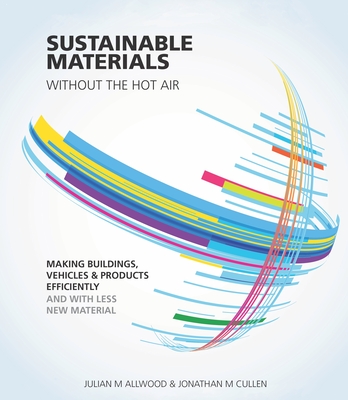 Sustainable Materials Without the Hot Air
Making Buildings, Vehicles and Products Efficiently and with Less New Material
Paperback

* Individual store prices may vary.
Description
Materials, transformed from natural resources into the buildings, equipment, vehicles and goods that underpin our remarkable lifestyle, are made with amazing efficiency. But our growing demand is not sustainable. This optimistic and richly-informed book evaluates all the options and explains how we can greatly reduce the amount of material demanded and used in manufacturing, while still meeting everyone's needs.
"Instead of the usual ya-boo about sustainability, this is a pragmatic guide to getting more value from less stuff. Researched with long-term co-operation from industry, it emphasizes facts and evidence but is aimed at a popular readership." - BBC News Magazine
"A valuable, impartial expert source in an important debate." - Boing Boing
Praise For Sustainable Materials Without the Hot Air: Making Buildings, Vehicles and Products Efficiently and with Less New Material…
"Though the authors have expertise in their subject, and it shows, they also write engagingly, explaining production methods and yield analysis in a way that a general audience can understand, and that will hopefully inspire industry to put these ideas into practice." —Jeff Fleischer, Foreword Reviews

"An excellent book . . . the message is clear and convincing: We can't go on using materials the way we have been for the past 150 years, but fortunately, we don't have to. We can meet the world's growing need for the stuff of modern life, avoid the worst effects of climate change, and preserve the environment for future generations . . . . Although the topic can be dry as a desert, the authors keep it light with lots of colorful illustrations and clever analogies without sacrificing clarity or rigor. I learned a lot from this thoughtful look at a critical topic." —Bill Gates, gatesnotes.com on first edition
UIT Cambridge Ltd., 9781906860301, 416pp.
Publication Date: September 3, 2015
About the Author
Julian Allwood is a Professor of Engineering at the University of Cambridge, where he leads the Low Carbon Materials Processing research group. Jonathan Cullen is University Lecturer in the University of Cambridge Engineering Department. They both have extensive practical experience working in the engineering industry, as well as taking part in numerous research projects.