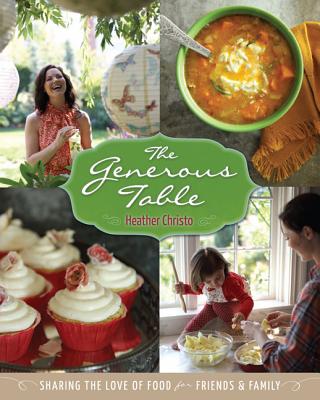 Heather Christo's Generous Table
Easy & Elegant Recipes Through the Seasons
Hardcover

* Individual store prices may vary.
Description
Heather Christo, the younger generation's entertaining doyenne, relates to the challenges facing her busy readers, women who may juggle marriage, family, careers and budgets, but who still wish to host beautiful, unique get-togethers for the people closest to them. Heather has spent a year chronicling the special occasions that season her family's life--wedding showers, baby showers, holiday celebrations, family birthdays and many wonderful meals shared with people they love--everyday celebrations that many families observe, and which many readers would like to be better prepared for. This is where her experience as a working mom of young children and her expertise as a chef and entertaining expert come together. Generous Table is more than just a cookbook. It is easy to find vast collections of great recipes. But how do you turn them into great meals, great experiences? Especially parties, of any size, where there is always added pressure to be organized, for things to look beautiful, and, of course, for the food to be completely delicious Generous Table is a kind of "how-to kit" for people who want to be able to throw any type of party in their own home. Containing lists, instructions, menu options, and tons of photographs, it eliminates stress and confusion and removes the intimidation factor of presenting beautiful meals. Heather has taken all of the guesswork out of entertaining by offering ideas for table settings, flowers, and a menu complete with tried-and-loved recipes. Generous Table is split up into four sections corresponding to the seasons. Each section features five sample menus for a variety of f tes from the most casual to the most elaborate, including Early Spring Dinner, Game Night, Southern Housewarming, and Snow Day Lunch, along with special events like showers, anniversaries, and birthdays. Every recipe, from Cheddar and Chive Scones with Red-onion Jam to BBQ Grilled Wild King Salmon with Apricot-mustard Glaze and Grilled Stone Fruit to Rustic Pear and Cranberry Crostata emphasizes fresh, seasonal ingredients. The book also includes Stylish Sidebars that tastefully correspond with each menu. In total, the book includes 105 recipes and about 20 sidebars with useful information such as "How to Set Up a Tasting Bar," "Glittery Decorations for a Spooky Halloween Supper," "How to Prepare a Brunch Ahead of Time." Heather is most concerned with making food that is not only beautiful to look at but tastes amazing, food that you find yourself thinking about days later that come from recipes that will last a lifetime.
Kyle Cathie Limited, 9781906868901, 207pp.
Publication Date: May 1, 2013
About the Author
Heather Christo is a professionally trained chef who graduated with honors from Le Cordon Bleu in San Francisco, followed by an apprenticeship at the Michelin-starred restaurant La Folie. She has appeared in a number of media outlets as an expert on entertaining, including InStyle, Good Morning America, Family Circle, People.com, Cosmopolitan, Oprah.com, More.com, Parenting, Shape.com, Foxnews.com, and more. She is the interior designer on the new primetime HGTV show, "Rescue My Renovation," premiering in February 2013. Visit her online at heatherchristo.com.
or
Not Currently Available for Direct Purchase