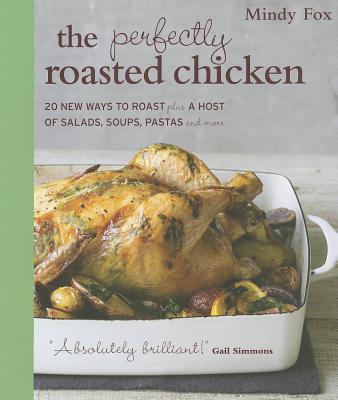 The Perfectly Roasted Chicken (Paperback)
20 New Ways to Roast Plus a Host of Salads, Soups, Pastas, and More
Kyle Cathie Limited, 9781906868994, 176pp.
Publication Date: June 16, 2013
* Individual store prices may vary.
Description
Previously published in hardcover as A Bird in the Oven and Then Some, this re-titled and re-jacketed paperback brings home the satisfaction of cooking and eating a perfectly roasted chicken. The rewards for nominal effort are many--a home filled with heady cooking aromas; tender, pull-apart meat and crisp golden skin; plus the exciting prospect of being able to make any number of delicious meals from the leftovers.The Perfectly Roasted Chicken takes this time-honored classic and reinvigorates it by showing just how much variety and enjoyment you can spin from a simple roast. Mindy Fox presents 20 new ways to roast a chicken, as well as 80 delicious ideas for sides and dishes to make with the surplus. Her exuberance and love for pure ingredients and straightforward, vibrant flavors comes across in smart upgrades on uncomplicated classics, such as Greek Roast Chicken with Caper Butter, Roast Lemons, and Skordalia and Farroto with Roast Chicken and Herbs, and inspired new ideas, like Salami-Barded, Salt-Roasted Chicken with Fennel Slaw and Winter Roast Chicken Salad with Fennel, Blood Orange, and Pistachio. More than just another chicken book, this is an engaging and exciting take on a beloved dish. Making use of easy techniques, Mindy Fox creates beautiful and outrageously good dishes that express a well-traveled palate, including Peruvian Roast Chicken with Avocado Salad, Cordoban Gazpacho with Shredded Roast Chicken, and Chinese Roast Chicken Buns with Scallion and Spiciy Hoisin Sauce. So whether you're looking for new ways to make a perfect roast chicken, or inspired ideas for roast chicken soups, salads, sandwiches, small plates, pastas, brunches, lunches, or dinners, The Perfectly Roasted Chicken truly rules the roost.
About the Author
Mindy Fox is a cookbook author, food writer and the food editor at La Cucina Italiana magazine. Her most recent book, Salads: Beyond the Bowl was chosen as a "Best Cookbook" by The New York Times (Christine Muhlke's "20 More Cookbooks," May 31, 2012) and Epicurious (Best 10 Cookbooks of 2012), and received accolades from Bon Appetit magazine, Heidi Swanson and many more. Fox's first book, A Bird in the Oven and Then Some (republished in 2013 as The Perfectly Roasted Chicken), was included in The New York Times' 2010 Best Cookbooks of the Year, and Food & Wine magazine's Best of the Best. Fox is the co-author with chef Sara Jenkins of Olives & Oranges: Recipes and Flavor Secrets from Italy, Spain, Cyprus & Beyond, an IACP Best Cookbook finalist, and co-author with Chef Karen DeMasco of The Craft of Baking, a New York Times Notable Book of the Year. Formerly on staff at Saveur, Fox has written for Saveur, La Cucina Italiana, Every Day with Rachel Ray, Prevention, Time Out New York and Edible Manhattan magazines. Her recipes and other freelance work have appeared in numerous regional, national and international newspapers and magazines, including The London Times, Food & Wine, Everyday Food, Country Living, Garden Design, Prevention and Parenting magazines, and on BonAppetit.com, Epicurious.com, The DailyMeal.com, FoodRepublic.com, LeitesCulinaria.com, PantryConfidential.com, TheImprovisedLife.com and many more. Fox has made numerous radio and television appearances, including Good Morning America/Health, The Splendid Table, NPR/WNYC: Last Chance Foods, Sirius XM's Martha Stewart Living Radio and Everyday Food programs, Heritage Radio's: The Food Seen, The B. Smith and Thank You, Dan shows, and Better TV. Early in her career, Fox cooked professionally in Boston restaurants, training with James Beard Award nominee chef Stan Frankenthaler and others. Fox's cooking and writing has been inspired by extensive travels in France, Italy, Mexico, Brazil and Turkey. Fox is a member of the culinary council at The Sylvia Center, a nonprofit organization teaching, inspiring and supporting children in their efforts to develop personal confidence, cooking skills and healthy eating habits for life. Visit her online at mindyfox.net.
or
Not Currently Available for Direct Purchase