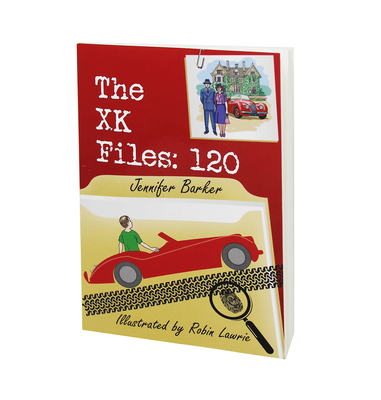 The XK Files
120
Paperback

* Individual store prices may vary.
Description
Whilst at a holiday cottage in Cornwall, nine-year-old Bill makes a fantastic discovery hidden at the back of the garage – a Jaguar XK 120. What's more, an XK 120 that can talk! Bill and the car soon become firm friends. Bill names the car 'XK' and introduces him to his Grandpa. Together they realise that magic happens when Bill sits in the car. The engine starts, XK transforms into a new car, and they are magically transported back in time.

XK takes them to Grandpa's childhood home in London, in 1948. Bill sees his Grandpa and Great Aunt Charlotte, as children, and watches the London of the late 40s being rebuilt after the war. The next time they visit, they witness the Great Smog of 1952 first-hand. Bill realises just how different things were for his Grandpa growing up.

When they visit again, it is the day of Princess Elizabeth's Coronation in 1953. At the street party outside Grandpa's house, Bill overhears a conversation between three gentlemen – spies – which sets him, XK and Grandpa a mystery to solve. Their adventures take them across London, with the events of the Coronation day taking place all around them. They must find out what is going on, with XK, young Grandpa and Charlotte's help – and save the day!   
 
Porter Press, 9781907085727, 128pp.
Publication Date: August 21, 2018
About the Author
Jennifer Barker is Editorial Assistant on the XK Club and E-type Club's membership magazines, The E-type and XK Gazette. Before joining Porter Press International, Jennifer spent nearly 20 years writing, designing and editing national children's magazines for Redan Publishing Ltd and Egmont. Having worked on adapting stories and creating new ones for the magazines she edited, from series such as Peppa Pig and Thomas the Tank Engine, Jennifer has much experience in writing for children. These were short stories, however, and this is Jennifer's first book. It is inspired by joining the Porter Press team in July 2017 and immersing herself in the world of Jaguar XK and E-type classic car ownership and its associated world, stories and history. 
Robin Lawrie has been an illustrator, and sometime author, for almost fifty years. He has worked on publications for major children's book publishers such as Oxford University Press, Cambridge University Press, Puffin, Harper Collins, Egmont, Scholastic, Usborne, Macmillan and many, many others. A career highlight was doing a graphic novel adaptation of The Lion, the Witch and the Wardrobe and The Magician's Nephew for Harper Collins and getting to collaborate with C.S. Lewis' stepson on the projects. At a guess (his own!) he has illustrated about 400 children's books and is now involved in illustrating mainly Third World textbooks for Macmillan and Oxford University Press. He has illustrated many children's classics including The Wind in the Willows and The Secret Garden for Puffin, Peter Pan and A Little Princess for Parragon, a Hans Anderson and Brothers Grimm collection for Kingfisher and Hamlyns and The Nutcracker for Templar. In addition, he has done many Enid Blyton jackets. Historical work includes Napoleon and Alexander the Great for Usborne and Perseverance (Edison), Forgiveness (Ghandi), Bravery (Sitting Bull) Determination (Jackie Robinson) and Dreams (Martin Luther King Junior) for Child's World (U.S.). A car and bike enthusiast, Robin has produced many greetings cards (mostly of vintage cars) and is producing graphic biographies on four Scottish Racing drivers and on five Welsh aviation heroes.
or
Not Currently Available for Direct Purchase