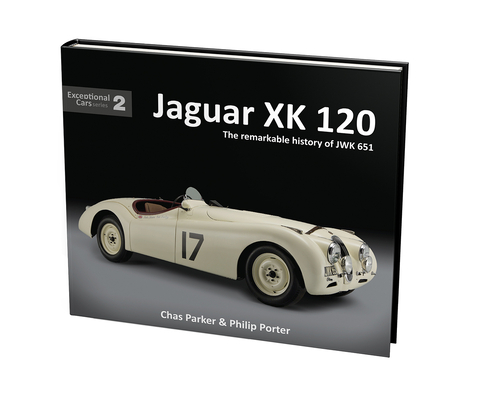 Jaguar XK120
The story of 660725 (Porter Profiles)
Hardcover

* Individual store prices may vary.
Description
Few, if any, Jaguar XK120s can have enjoyed a more fascinating and varied life than chassis number 660725. Just under two-thirds of the total production was allocated to the Roadster, which had caused such a stir at the 1948 London Motor Show. Of that, 660725 was one of just 1,173 right-hand-drive Roadsters constructed.

"Apart from now being the longest-serving XK120 owner, I also consider myself the most fortunate, lucky, accidental, blessed, providential – call it what you will – owner. Why? Because no fictional script writer could have come up with the number or variety of experiences, both dangerous and funny, in so many different countries and environments, that any combination of car and man would experience together.' Bob Henderson, January 2013
Porter Press, 9781907085802, 96pp.
Publication Date: March 23, 2021
About the Author
Simon Ham was born into a motor-racing family. His mother entered club events, while his father David competed in a range of machinery, from Aston DB4GT to Hesketh 308E. Simon is also an enthusiastic racer, having competed all over the world in cars that include the Lister-Jaguar that his father bought in 1969 for £1250. As well as acting as a consultant for RM Sotheby's, Simon currently edits AM News – the monthly magazine of the Aston Martin Owners Club. This is his first book.
Philip Porter has written about 30 motoring books, twice winning the Montagu Trophy for best motoring book of the year. A lifelong motor racing enthusiast, that enthusiasm was largely fired by Stirling Moss. Like so many young boys in the fifties, he was Philip's absolute hero. As a consequence, Philip began successfully competing in motor sport while still at school. He began acquiring classic sports cars long before it became a boom and owns 9600 HP, the oldest E-type in existence. This led to some motoring journalism among his busy business career. He later satisfied his competitive spirit with flying hot air balloons and airships, winning the silver medal at the 1991 European Airship Championships. In 1992 he became the first person ever to fly an airship in Africa. He is Chairman of the Sherlock Holmes Society and an active member of the Jerome K. Jerome Society. In 1997 he and his wife Julie founded the International Jaguar XK Club and in 2004 they started the Jaguar E-type Club. Philip edits both monthly magazines and Sir Stirling is Patron of the XK Club. Philip and Julie live in a Tudor farmhouse in Worcestershire and have their offices in an adjoining thatched barn.