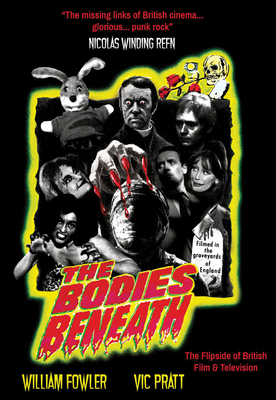 The Bodies Beneath
Paperback

* Individual store prices may vary.
Description
From occult rites in soft porn discos to Sooty the TV puppet's amphetamine problem, a feast of curiosities from British film and TV.
The past, they say, is another country, but as seen through the lens of British film and television, it is a deeply strange and unfamiliar land. From occult rites in soft porn discos to Sooty the TV puppet's amphetamine problem, from Old Mother Riley, and Vampire Hunter to Vincent Price's heart-attack-inducing cookery program, in this book veteran curators William Fowler and Vic Pratt have delved deep into the archives of the British Film Institute to serve up a feast of curiosities that will tempt the palate of even the most jaded cinephile.
Each chapter considers a key aspect of British life as seen through the psychotronic lens of pop culture. Do All the Right Noises and Under the Doctor tell us more about attitudes to marriage and sexuality than a sociological survey? Can American musicologist Alan Lomax capture a truer image of the weird rites of Cornish folk culture than a native Cornishman? Why was Peter Watkins's The War Game banned from TV screens? These crucial questions, and many more, will be answered, and awkward truths told, by our highly informed, erudite and amusing guides to this cultural hinterland.
Strange Attractor Press, 9781907222726, 224pp.
Publication Date: August 13, 2019
About the Author
William Fowler, cofounder of The Flipside, is a film archivist, writer, and curator at the BFI. His film retrospective and restoration projects include Queer Pagan Punk: Derek Jarman, This Is Now: Film and Video After Punk, The Lacey Rituals: Bruce Lacey and Here's a Health to the Barley Mow. Vic Pratt is a film archivist, writer, historian, Blu-ray and DVD producer. Co-founder of The Flipside, he has programmed numerous cinema screenings at venues in the UK and overseas and has written on British and International film and television history for a wide range of books, magazines, websites and DVD releases.