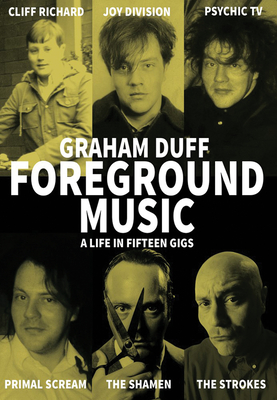 Foreground Music
A Life in Fifteen Gigs
Paperback

* Individual store prices may vary.
Description
A chronicle of a lifetime's passion for gig-going, by one of British television's most respected writers.
"Foreground Music is an absolute gem. Charming, very funny and often achingly melancholy, Graham Duff's memoir is suffused with a genuine passion for live music and its (occasionally eccentric) power.
—Mark Gatiss
The result of a lifetime's passion for gig-going by one of British television's most respected writers, Foreground Music is at once enthusiastically detailed and tremendously illuminating—of both the concert moment and its place in popular culture. It is an engaging memoir of a life lived to the fullest, and a vivid, insightful, and humorous exploration of what music writing might be.
Foreground Music describes music performances that range from a Cliff Richard gospel concert, attended by Duff at the age of ten, to the fourteen-year-old Duff's first rock show, where the Jam played so loudly he blacks out, to a Joy Division gig that erupted into a full-scale riot. Duff goes on pub crawls with Mark E. Smith of the Fall, convinces Paul Weller to undertake his first acting role, and attempts to interview Genesis P. Orridge of Throbbing Gristle while tripping on LSD.
Foreground Music captures the energy and power of life-changing gigs, while tracing the evolution of forty years of musical movements and subcultures. But more than that, it's an honest, touching, and very funny story of friendship, love, creativity, and mortality, and a testimony to music's ability to inspire and heal. Illustrated with photographs and ephemera from the author's private collection.
Praise For Foreground Music: A Life in Fifteen Gigs…
Foreground Music is a delight. Not just for music lovers, who will find themselves resonating with much within every page, every paragraph. But also for anyone whose passion for something ignites the desire to consume and experience everything about it, and in doing so, enrich one's own life and the lives of others through the sharing of the subject's vitality. There's something wonderful about the way someone who is so knowledgeable and effusive about a subject dear to them – so much so that it seems a component of their very being – can inspire another to want to come into contact with this curiosity themselves, despite not previously possessing the slightest bit of interest.—THE QUIETUS—
Strange Attractor Press, 9781907222825, 364pp.
Publication Date: December 31, 2019
About the Author
Graham Duff is a British TV comedy and drama scriptwriter whose credits include Ideal and The Nightmare Worlds of H.G. Wells. As an actor he has appeared in, among other things, two Harry Potter films, Alan Partridge, and Dr. Who.
or
Not Currently Available for Direct Purchase