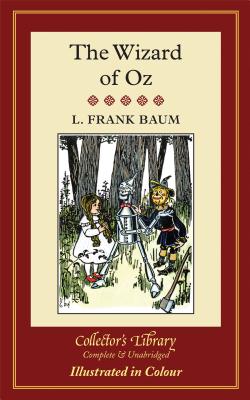 Wizard of Oz (Hardcover)
Collectors Library, 9781907360909, 184pp.
Publication Date: September 1, 2013
Other Editions of This Title:
Paperback (5/22/2019)
Paperback (2/8/2012)
Paperback (5/30/2008)
Paperback (2/7/2016)
Paperback (11/13/2017)
Paperback (3/11/2016)
Paperback (8/14/2017)
Paperback (6/12/2019)
Paperback (3/27/2008)
Paperback (5/28/2019)
Paperback (12/7/2011)
* Individual store prices may vary.
Description
The story of Dorothy and her little dog Toto, who are carried away from Kansas by a cyclone to the wonderful world of Oz is famous the world over. On her journey she meets three companions - the Scarecrow, the Tin Woodman and the Cowardly Lion -and the three journey to the Emerald City of Oz to ask the Wizard of Oz to give them their hearts' desires, which in Dorothy's case is to return home to Kansas. On their way to Oz, and while fulfilling the tasks that the surprising Wizard asks of them, they encounter witches, winged monkeys, the Deadly Desert, fighting trees, and magic shoes..
It was ingeniously illustrated by W. W. Denslow, the great American illustrator and caricaturist who had collaborated with Baum on several of his earlier books.
This edition is evocatively illustrated with Denslow's original illustrations which have been sensitively re-coloured by one of Britain's leading colourists, Barbara Frith.
About the Author
L. Frank Baum (1856-1919) was an American author of children's books, best known for writing The Wonderful Wizard of Oz. He wrote thirteen novel sequels, nine other fantasy novels, and a host of other works, totaling fifty-five novels, eighty-three short stories, more than two hundred poems, and an unknown number of scripts.
or
Not Currently Available for Direct Purchase