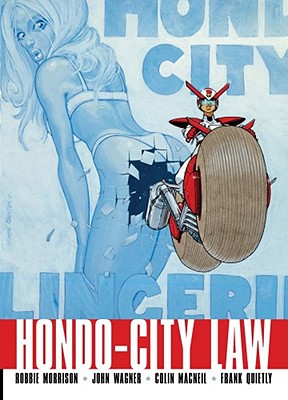 Hondo City Law (Judge Dredd) (Paperback)
2000 AD, 9781907519918, 160pp.
Publication Date: August 16, 2011
* Individual store prices may vary.
Description
Japanese Judges have to contend with violent crime and ancient tradition in a collection of fast-paced tales. Set in the universe of Judge Dredd, but taking place in a very different kind of city, this is a whole new brand of justice... Hondo-City is the Japanese equivalent of Mega-City One; a large, sprawling urban mass policed by Judges. Culturally, however, it is totally different. While on the forefront of modern technology, the Hondo-citizens remain tied to the roots and customs of feudal Japan, including the way in which the women are treated as inferior to the male populace. Though the Samurai-like Judge-Inspectors are seen to be in charge, the Yakuza crime Syndicates still have a hold on power. Here is a slice of Hondo-City law...
About the Author
Written by John Wagner, Robbie Morrison Art by Frank Quitely, Colin MacNeil, Andy Clarke, Neil Googe
or
Not Currently Available for Direct Purchase