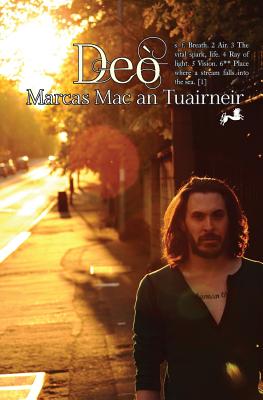 Deo (Paperback)
Grace Note, 9781907676390, 148pp.
Publication Date: October 6, 2013
* Individual store prices may vary.
Description
In De , Marcas Mac an Tuairneir, an up and coming young poet, released his first collection of Poems in Scottish Gaelic. This book is fully bilingual Gaelic - English. In his foreword by Martin MacIntyre, he says:
"I was privileged to be given a sneak preview of Marcas's work in progress over the last two years or so; you now have the pleasure collected here in 'De ' and desirous of your active reading. These poems take us to many places, both physical and emotional, and they do so in carefully crafted apposite language. Fear, darkness and regret are there but also joy and hope and pursuit of a richer world. We often meet love. As is her wont, her capricious nature reveals anger, dissatisfaction, and bewilderment even, that she is not properly understood. She is also though capable of forgiveness, of falling head-over-heels, and does not conceal wonder at how deeply she has been stirred from placid repose." More on the foreword... REVIEW: Deo (meaning 'breath') is the first poetry collection from Marc an Tuirneir, ... The collection is written in Scottish Gaelic with English translations on the opposite page, facilitating those whose 'Gaidhlig' ranges from rusty to non-existant. Deo explores the journeys of youth from many perspectives, taking inspiration from such places as Aberdeen, Edinburgh, Alicante, Ireland and his home city of York. The imagery in much of this poetry is strikingly beautiful and strong, taking inspiration from physical, emotional, and even linguistic landscapes. In Sluagh- Ghairm (Battlecry) he plays with the concept of the gay 'closet' when addressing the topic of Gaelic in Scotland, using the word and its meaning in both Gaelic and English: Cha dhaibhsan a tha mi a' sgr obhadh, Ach do fhleasgaichean b na, di id, Sgaraicht' eadar cl aid leis an aodach Is cl said eile leis a' chac. It's not for them that I'm writing, But for the timmering, gentle lad, Stuck between one closet with the clothing And another closet1 with the crap. As many of his poems are powerfully descriptive, Mac an Tuirneir proves his worth with Deo, showing his beautiful mastery of the Gaelic language and of poetry in general. There is a musicality to his writing that is hard to find in modern Gaeilic literature, especially when dealing with translations and idioms. Deo is a welcome addition to the world of Gaelic poetry, as well as its new gay sub-genre. REVIEW: Eile Magazine, Issue 06 -November 2013 -complete review at: http: //issuu.com/eilemagazine/docs/issue06.