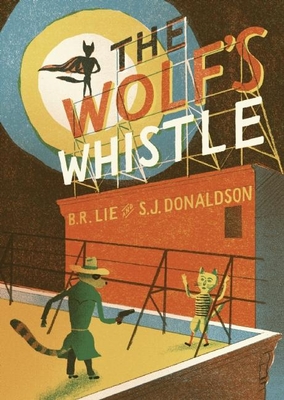 The Wolf's Whistle (Hardcover)
Nobrow, 9781907704031, 32pp.
Publication Date: May 8, 2012
* Individual store prices may vary.
Description
Enter the big bad wolf. But was he really so bad? This is the question at the heart of The Wolf's Whistle, the first installment in Nobrow's Behind the Tails series. The series explores the back-stories of fairy tales' most notorious villains. In this tale, we follow the wolf from The Three Little Pigs through his childhood experiences to find the ultimate source of his animosity for the porcine protagonists.

Albert is a comic-creating, scrawny little wolf who, along with his misfit friends, battles the Honeyroast brothers, the school's alpha male sports jocks: three bratty pigs. Sons of the local property magnate, they will stop at nothing to torment their weaker classmates. The story resumes many years later when Albert is a mailroom assistant and lives in a dingy one-bed studio in Brooklyn where the Honeyroast brothers are now his landlords. Tragedy strikes and Albert is forced to take the mantle against his oppressors and fulfill his destiny as the crime fighting "Lone Wolf."
About the Author
Bjorn Rune Lie is the author of Slapsfjell (Magikon Forlag, Norway) and a regular contributor to Nobrow Magazine. He lives and works in Bristol, UK.
Scott James Donaldson: S Donaldson, Having blogged extensively as part of the "Untimely" short story project, Donaldson has developed a love for creating oddball characters without judgement. He lives and works in Bristol, UK.
Alex Spiro is creative director and founding partner of Nobrow Press
Praise For The Wolf's Whistle…
"Another neat little hardcover beauty, The Wolf's Whistle is a Richard Scarry meets Wes Anderson fusion of art comics and children's books. It's a superhero origin story made with the deft touch of a printmaker, and which might be the title in Nobrow's catalogue that best showcases the care and attention given to the printing process."
—John Martz from Drawn!
or
Not Currently Available for Direct Purchase