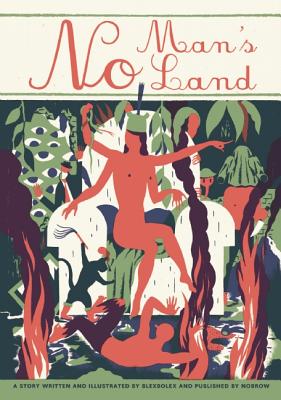 No Man's Land (Hardcover)
Nobrow, 9781907704185, 40pp.
Publication Date: July 17, 2012
* Individual store prices may vary.
About the Author
Blexbolex is a multi-award winning French book illustrator working out of Berlin. His stylish and original work has been featured in Popo Color, Fusee, Ferraille and Comix 2000 (Fantagraphics). His experimental approach to combining illustration with industrial printing techniques and a depth of understanding of the book production processes makes him a true pioneer in his field. For Nobrow he has worked on his first two English language books, Abecederia and Dog Crime with his latest project, No Man's Land. In 2009, he received a prize for "Best Book Design of the World" for his L'Imagier des gens (2008) at the Book Fair of Leipzig.
Praise For No Man's Land…
"Clever, beautiful and breathtaking - Blexbolex steps up a gear with new book No Man's Land"Rob Alderson, It's Nice That blog

"it's no exaggeration to say it's an absolute masterpiece of its form."Rob Alderson, It's Nice That blog

"Visually we know what Blexbolex can do, but even for someone who's won prestigious awards (Best Book Design at the Leipzig Book Fair 2009,The New York Times Best Illustrated Book in 2010) this is stepping it up a level."Rob Alderson, It's Nice That blog

"It's immersive, at times claustrophobically so, as we are pulled into the nightmare scenarios, but along with a beautiful visual turn of phrase, Blexbolex is also a master of pace and rhythm, slowing down for a much-needed narrative breather before plunging us head-first into frenzy, ambush, fire, then pulling out again readying our shattered nerves for the next descent."Rob Alderson, It's Nice That blog

"While it's always a treat to see the new offerings from graphics publishing platform No Brow, new book No Man's Land, by French illustrator Blexbolex, is rather extraordinary."Design Week

"The language and imagery are seamlessly balanced deceptively simple and measured, yet profoundly disturbing"Design Week

"Page after page of stunning print work paints a satirisation of the mind's ability to seduce itself a tale of dreamlands, psychological intensity, life and death."Design Week
or
Not Currently Available for Direct Purchase