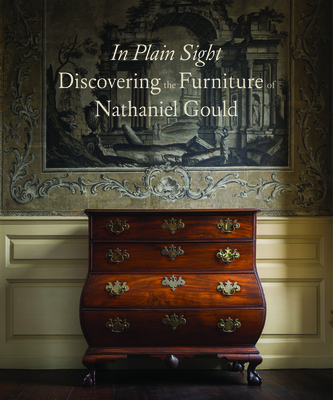 In Plain Sight
Discovering the Furniture of Nathaniel Gould
Hardcover

* Individual store prices may vary.
Description
In Plain Sight: Discovering the Furniture of Nathaniel Gould is the stunning result of happy accident and indefatigable, dedicated research. In the field of early American furniture made in Massachusetts, Nathaniel Gould has loomed as something of a mystery -- believed to have been prolific, handsomely skilled, and exceptionally enterprising, yet considered elusive because of a scarcity of known works, lack of documentation, and difficulties of attribution. Accident -- the unexpected discovery of Gould's day books and account book in the collection of the Massachusetts Historical Society -- and analysis -- painstaking and inductive -- have produced an invaluable, multifaceted case study.

This book establishes Gould unquestionably as Salem's leading cabinetmaker before and during the period of the American Revolution. He made substantial and often expensive furniture, including case pieces of bomb form embellished with carving. The number of works that can be attributed to Gould remains small, but the foundation for increasingly assured connoisseurship lies within these pages and Gould's archival records. The scale of his workshop, his impressively large, diverse clientele, and his successes in Salem's furniture export trade attest to his achievements as an entrepreneur.
However, this book illuminates not only a particular individual, but the Salem/Boston/New England spheres in which Gould operated during a tumultuous time in American history. The scrupulously recorded notations in his ledgers are precious clues to emerging concepts of style and taste, cultural mores, business practices, socio-economic circumstances, and familial histories with local, regional, and national relevance.
In Plain Sight presents a choice array of forms confidently assigned to Gould's shop, and makes accessible the ledgers themselves, meticulously analyzed and interpreted to facilitate present and ongoing scholarship regarding Nathaniel Gould, Salem, early New England furniture, and colonial America.
Giles, 9781907804335, 184pp.
Publication Date: October 14, 2014
About the Author
Kemble Widmer has applied his training and career as an industrial engineer to his examination of early furniture in Boston and Essex County, Massachusetts. Over twenty-five years, by rigorously documenting and comparing like forms, he has determined places of origin and even individual craftsmen. His research on Nathaniel Gould has disclosed an unparalleled amount of information about cabinetmaking, customers, and colonial life.Joyce King, an eleventh generation inhabitant of Salem, Massachusetts, is an expert in genealogical research. She has collaborated closely with her co-author on numerous issues of provenance that have enabled attributions of furniture to Nathaniel Gould. Contributing AuthorsGlenn Adamson, formerly Head of Research, Victoria and Albert Museum, London, is The Nanette L. Laitman Director of the Museum of Arts and Design, New York. He is the founding co-editor of the Journal of Modern Craft and the author of Inventing Modern Craft.Daniel Finamore is The Russell W. Knight Curator of Maritime Art and History at the Peabody Essex Museum, Salem, Massachusetts.Dean Lahikainen is The Carolyn and Peter Lynch Curator of American Decorative Art at the Peabody Essex Museum, Salem, Massachusetts. His publications include Samuel McIntire: Carving an American Style and In the American Spirit: Folk Art from the Collections (of the Peabody Essex Museum).Elisabeth Garrett Widmer, formerly director of Sotheby's American Arts course and a Senior Vice President at Christie's, New York, and director of Classes in Connoisseurship, is an authority on American eighteenth- and nineteenth-century decorative arts and social history. Her publications include At Home: The American Family 1750 - 1870.