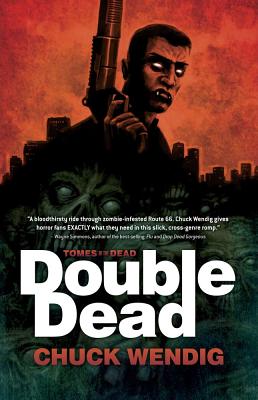 Double Dead (Tomes of the Dead #1) (Paperback)
Abaddon Books, 9781907992414, 320pp.
Publication Date: November 15, 2011
* Individual store prices may vary.
Description
In the Zombie apocalypse the last vampire on Earth has a hell of time keeping his food alive... Coburn's been dead for close to a century, but seeing as how he's a vampire and all, it doesn't much bother him. Or at least it didn't, not until he awoke from a forced five-year slumber to discover that most of human civilization was now dead--but not dead like him, oh no. See, Coburn likes blood. The rest of the walking dead, they like brains. He's smart, they're not. But they do outnumber him by about a million to one, and the clotted blood of the walking dead cannot sustain him. Now he's starving, nocturnal, and more pissed-off than a bee-stung rattlesnake. The vampire not only has to find human survivors (with their sweet, sweet blood), but now he has to transition from predator to protector--after all, a man has to look after his food supply.
About the Author
Chuck Wendig is a novelist, screenwriter and self-described 'penmonkey.' He sold his first story when he was 18. After working in the computer and role-playing game industries he began scripting TV and film projects, including a horror film script which won him a place at the prestigious Sundance Screenwriter Lab 2010. He currently lives in the wilds of Pennsyltucky with a wonderful wife and two very stupid dogs.
or
Not Currently Available for Direct Purchase