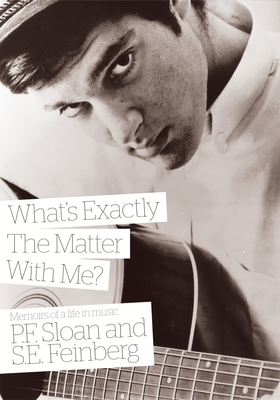 What's Exactly The Matter With Me? (Paperback)
Memoirs of a life in music
Jawbone Press, 9781908279576, 320pp.
Publication Date: June 1, 2014
* Individual store prices may vary.
Description
P.F. Sloan was one of the most prolific and influential geniuses to emerge from the golden age of the 60s. From his little studio at Dunhill Records, Sloan was a veritable hit-machine, writing and playing guitar for The Mamas & The Papas (that's Sloan's infectious guitar lick on 'California Dreamin'), Barry McGuire (the brilliant and controversial 'Eve Of Destruction'), Johnny Rivers (the iconic 'Secret Agent Man'), The Turtles, The Grass Roots, Herman's Hermits, The Fifth Dimension, The Searchers, and more. P.F. Sloan was everywhere. And then he disappeared. With a foreword by British singer-songwriter Rumer and an afterword by Creed Bratton, the Grass Roots guitarist turned star of The Office, What's Exactly The Matter With Me? is a revelatory memoir of an extraordinary life through the most fascinating years of American and British musical and pop culture. Beginning with a chance meeting with Elvis Presley, this is the story of a boy whose only love was music--of dreams, success, destruction, and miraculous resurrection. Along the way we encounter The Beatles, The Rolling Stones, The Byrds, Bob Dylan, Buffalo Springfield, The Beach Boys, and more, as well as UFOs and psychiatric hospitals. This is the dangerous ride and inspiring story of one of the greatest songwriters in popular music--and also one of the most elusive and mysterious.
About the Author
P.F. Sloan is a legendary songwriter and performer. Born Philip Gary Schlein in New York in 1945, he moved to California with his family in the late 50s and recorded his first single, 'All I Want Is Loving,' at the age of fourteen. He soon became a key figure on the Los Angeles music scene, writing and appearing on dozens of hit records during pop's golden age in the mid 60s. S.E. Feinberg is a playwright, script consultant, and humorist based in Topanga Canyon, California. He has been a P.F. Sloan fan since he was fourteen and recently co-wrote, with P.F. Sloan, Louie! Louie!, a musical based on the life of Ludwig van Beethoven.
or
Not Currently Available for Direct Purchase