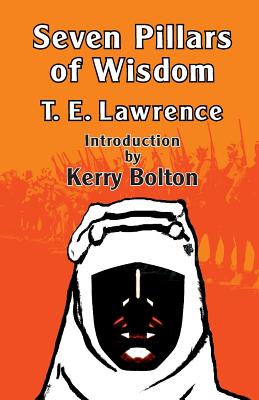 Seven Pillars of Wisdom
Paperback

* Individual store prices may vary.
Other Editions of This Title:
Paperback (1/18/2011)
Paperback (10/1/2019)
Paperback (8/17/2020)
Paperback (6/9/2017)
Hardcover (1/5/2009)
Hardcover (1/17/2011)
Hardcover (8/16/2020)
Paperback (1/8/2009)
Paperback (8/17/2011)
Paperback (6/5/1997)
Paperback (6/1/1991)
Paperback (4/18/2018)
Compact Disc (2/11/2020)
Paperback (11/1/2006)
MP3 CD (2/11/2020)
Hardcover (12/1/1976)
Description
In Seven Pillars of Wisdom we have a timely book, and one that will remain timely into the foreseeable future. In Lawrence we have an impeccable witness; not a diplomat, not a politician, not a lobbyist, but a scholar and a soldier who embodied that vestige of chivalry that has now all but vanished. He records what he saw and what he undertook, living among those warriors whom he led in a manner seldom experienced by any other officer. Hence, Lawrence had empathy for the Arabs that will hopefully be of keen interest to the present generations who are fed a daily diet of Islamophobia and Arabophobia, literally 'anti-Semitism', since it is the Arabs who are the sons of Shem. The picture given by Lawrence is of a people very different from today's media and Hollywood stereotypes that are part of a propaganda offensive to justify a genocidal war against a people and a faith which could not only have co-existed with, but which could have remained as firm friends, with the West on the basis of the friendship that had been cultivated by Lawrence. As Seven Pillars shows, the 'West' and the Arabs and all of Islam are now embroiled in a conflict that has it's roots in the diplomatic duplicity during World War I, which has brought chaos to a large expanse of the world, and which shows no signs of abating in the lifetime of any reader of this book. Lawrence here sets the dramatic background against which this tragedy is being played out.
Black House Publishing, 9781908476562, 672pp.
Publication Date: October 18, 2013